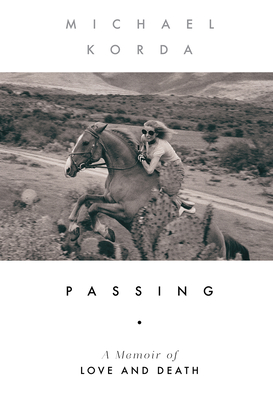 Passing
A Memoir of Love and Death
Hardcover

* Individual store prices may vary.
Description
In the tradition of The Year of Magical Thinking comes a legendary editor's unflinching love song about his radiant wife, Margaret, and her battle with cancer.
It was a warm April in Pleasant Valley when Margaret Korda, normally a fearless horsewoman, dropped her horsewhip while she was riding. Such a mild slip was easy to ignore, but when other troubling symptoms accumulated, she confided to her husband, "Michael, I think something serious is wrong with me." Within a few rapid weeks, the fiercely independent, former fashion model was diagnosed with brain cancer, while Michael, once reliant on her steeliness, became her caregiver, deciphering bewildering medical reports and packing her beloved toiletries for the hospital. An operation performed by a renowned surgeon allowed Margaret to ride her favorite competition horse Logan go Bragh a few more times, but Margaret's tumors quickly returned—leaving her to grapple with the reality of impending death. In rapturous prose, Korda, a modern- day Orpheus, braids her heroic story with heartrending details of their final year together. Passing, a tender memoir, is a testament to the transcendent possibilities of love.
Praise For Passing: A Memoir of Love and Death…
[Michael Korda] delivers a heartfelt look at his wife, Margaret... This intimate memoir is both a tribute to their 45-year marriage... and an account of how looking 'after someone who is dying gradually fills one's life to the exclusion of everything else'... Lovingly told, Korda's memoir movingly captures the complexities of dealing with the death of a loved one.
— Publishers Weekly ("Books of the Week")

Anyone who has ever cared for a loved one at the end of life will identify with Korda's escalating feelings of despair and uselessness as he tries to save his wife from a disease with no rescue. His book, and his life, illustrate the essential truth that no matter our circumstances, we will one day die. His unsparing account nudges us to reconsider life's trivial grievances until we do.
— Connie Schultz, Washington Post

Written in plain, straightforward prose, Passing is the memoir of a man who stuffs himself with facts and information about brain tumors and cancer in hopes that knowledge will help him get through the anguish of watching his beautiful wife die.... Korda's book keeps you reading because of the graceful, understated way he conveys his anguish, his love and his admiration for his spirited wife.... Passing is a moving book.

— Laurie Hertzel, Minneapolis Star Tribune

Passing, the story of a woman stricken with cancer and the husband who loved her, is an unforgettable tribute to the raw emotions that evolve from shock to acceptance.

— Mary Higgins Clark

A sensitive and absorbing chronicle of his wife's death from cancer a year after she was diagnosed with a brain tumor... Joining a growing genre about death and dying that includes Sherwin Nuland's How We Die and Atul Gawande's Being Mortal, Korda's memoir is both a celebration of his 45-year marriage to his 'lover, companion, and best friend' and a clear-eyed account of the benefits and limits of medical intervention... A compassionate chronicle of a couple's last year.


This harrowing account of Margaret Korda's death is also a deeply moving testimonial to the beauty and strength of a remarkable marriage. I am grateful to Michael for this honest and painful book that cannot have been easy to write.
— Robert Gottlieb

In this harrowing, engrossing, meticulous account of his wife's deterioration from cancer, Michael Korda presents both the medical and the psychic details of dying. His writing is disciplined and unsentimental, but deeply evocative and ultimately very generous. He opens the private world of the extremely private woman to whom he was married, fully capturing her spirit, their marriage, and her untimely demise.
— Andrew Solomon

Michael Korda's Passing is a singular account of his wife's gallant battle against a relentless cancer and a description of that tragic journey. T.S. Eliot wrote, 'In my end is my beginning... Or let us hope.'




— Larry McMurtry
Liveright, 9781631494642, 224pp.
Publication Date: October 8, 2019
About the Author
Michael Korda is the best-selling author of Hero, Clouds of Glory, and Charmed Lives. The former editor-in-chief of Simon and Schuster, he was awarded the Order of Merit of the Republic of Hungary for his participation in the Hungarian Revolution of 1956. He lives in Pleasant Valley, New York.