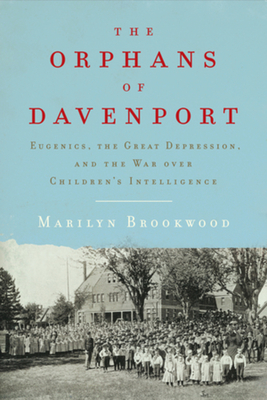 The Orphans of Davenport
Eugenics, the Great Depression, and the War over Children's Intelligence
Hardcover

* Individual store prices may vary.
Other Editions of This Title:
Digital Audiobook (7/28/2021)
Digital Audiobook (7/28/2021)
MP3 CD (9/7/2021)
Compact Disc (9/7/2021)
Description
The fascinating—and eerily timely—tale of the forgotten Depression-era psychologists who launched the modern science of childhood development.
"Doomed from birth" was how psychologist Harold Skeels described two toddler girls at the Iowa Soldiers' Orphans' Home in Davenport, Iowa, in 1934. Their IQ scores, added together, totaled just 81. Following prevailing eugenic beliefs of the times, Skeels and his colleague Marie Skodak assumed that the girls had inherited their parents' low intelligence and were therefore unfit for adoption. The girls were sent to an institution for the "feebleminded" to be cared for by "moron" women. To Skeels and Skodak's astonishment, under the women's care, the children's IQ scores became normal.
Now considered one of the most important scientific findings of the twentieth century, the discovery that environment shapes children's intelligence was also one of the most fiercely contested—and its origin story has never been told. In The Orphans of Davenport, psychologist and esteemed historian Marilyn Brookwood chronicles how a band of young psychologists in 1930s Iowa shattered the nature-versus-nurture debate and overthrew long-accepted racist and classist views of childhood development.
Transporting readers to a rural Iowa devastated by dust storms and economic collapse, Brookwood reveals just how profoundly unlikely it was for this breakthrough to come from the Iowa Child Welfare Research Station. Funded by the University of Iowa and the Rockefeller Foundation, and modeled on America's experimental agricultural stations, the Iowa Station was virtually unknown, a backwater compared to the renowned psychology faculties of Stanford, Harvard, and Princeton. Despite the challenges they faced, the Iowa psychologists replicated increased intelligence in thirteen more "retarded" children.
When Skeels published their incredible work, America's leading psychologists—eugenicists all—attacked and condemned his conclusions. The loudest critic was Lewis M. Terman, who advocated for forced sterilization of low-intelligence women and whose own widely accepted IQ test was threatened by the Iowa research. Terman and his opponents insisted that intelligence was hereditary, and their prestige ensured that the research would be ignored for decades. Remarkably, it was not until the 1960s that a new generation of psychologists accepted environment's role in intelligence and helped launch the modern field of developmental neuroscience..
Drawing on prodigious archival research, Brookwood reclaims the Iowa researchers as intrepid heroes and movingly recounts the stories of the orphans themselves, many of whom later credited the psychologists with giving them the opportunity to forge successful lives. A radiant story of the power and promise of science to better the lives of us all, The Orphans of Davenport unearths an essential history at a moment when race science is dangerously resurgent.
Praise For The Orphans of Davenport: Eugenics, the Great Depression, and the War over Children's Intelligence…
Gripping, meticulously researched.... The bracing revelation of Brookwood's book is that these essential lessons in countering the effects of neglect and disadvantage came frighteningly close to disappearing without a trace.
— Diane Cole - Washington Post

Excellent.... The quiet courage of the Iowa researchers illuminates this story, not least when others admit that they failed to rise to the same challenge.... In chronicling a major intellectual battle of the 20th century, The Orphans of Davenport offers scientists a cautionary, timeless tale about groupthink's power to subvert the dispassionate analysis of new findings.
— Meredith Wadman - Science

Brookwood makes her book debut with a revealing and thoroughly researched history of the long and fierce controversy about whether intelligence is inherited or influenced by environment . . . . A substantive contribution to the history of psychology.
— Kirkus Reviews

A remarkable unsung history, told with empathy, nuance, and a knack for character-driven storytelling.
— Michael Rodriguez - Library Journal

A triumph of empathetic scholarship, a story whose characters—from the children to the brave scientists who advocated for their care—make for truly compelling, and sometimes heartbreaking, reading. The importance of Marilyn Brookwood's story extends well beyond its midwestern locale, exposing as it does the darker currents of pseudoscience and homophobia that would plague the twentieth century. A remarkable and beautifully written account.
— R. Tripp Evans, author of Grant Wood: A Life

Drawing masterfully on numerous archives, Brookwood recounts in lucid, page-turning prose the empirical open-mindedness of the Iowa psychologists, their personal and collaborative lives, and their caring follow-up of the children after they were adopted. She rightly emphasizes the larger significance of their findings and the victory they ultimately achieved against slashing attacks from eugenicists and leading mental testers. In all, a gripping, upending story.
— Daniel J. Kevles, author of In the Name of Eugenics: Genetics and the Uses of Human Heredity

This gripping untold story of the nurture-nature debate is for anyone interested in how parenting shapes the development of a child's mind and brain. Masterfully weaving history, sociology, and neuropsychology, The Orphans of Davenport will tug at your heartstrings and forever change the way you think about what it means to be smart.

— Alexandra Sacks, coauthor of What No One Tells You: A Guide to Your Emotions from Pregnancy to Motherhood

A fascinating and often moving book—and one of the best that I've read in a very long time. . . . It will appeal to anyone interested in the nature-nurture debate, the history of psychology, child-rearing, the eugenics movement, or simply fans of beautifully written books.
— Jonathan Spiro, author of Defending the Master Race: Conservation, Eugenics, and the Legacy of Madison Grant
Liveright, 9781631494680, 352pp.
Publication Date: July 27, 2021
About the Author
Marilyn Brookwood is a psychologist who has worked in public education and held an adjunct faculty position at the College of New Rochelle in New York. In 2008 she earned her third postgraduate degree in Harvard University's Mind, Brain, and Education Program.