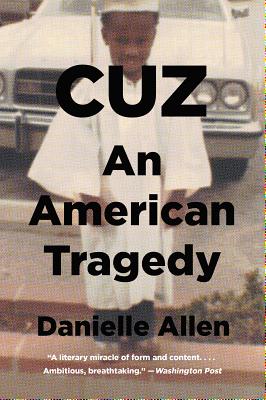 Cuz
An American Tragedy
Paperback

* Individual store prices may vary.
Other Editions of This Title:
Hardcover (9/5/2017)
MP3 CD (12/12/2017)
Library Binding, Large Print (4/1/2018)
Description
Named one of the Best Books of the Year by the Washington Post, San Francisco Chronicle, Booklist, and Shelf Awareness

A School Library Journal "In the Margins" Recommendation
"An elegiac memoir and social jeremiad," Cuz is "a literary and political event like Toni Morrison's Playing in the Dark" (Henry Louis Gates Jr.).
First appearing in
The New Yorker
, Danielle Allen's
Cuz
announced the arrival of one of our most gifted literary memoirists. In this "compassionate retelling of an abjectly tragic story" (
New York Times
), Danielle Allen—a prize-winning scholar—recounts her heroic efforts to rescue Michael Alexander Allen, her beloved baby cousin, who was arrested at fifteen for an attempted carjacking. Tried as an adult and sentenced to thirteen years, Michael served eleven. Three years later, he was dead. Why did this gifted young man, who dreamed of being a firefighter and a writer, end up murdered? Why did he languish in prison? And why at fifteen was he in an alley in South Central Los Angeles, holding a gun while trying to steal someone's car? Hailed as a "literary miracle" (
Washington Post
), this fierce family memoir makes mass incarceration nothing less than a new American tragedy.
Praise For Cuz: An American Tragedy…
A literary miracle of form and content. The book pleads with us to find the moral imagination to break the American pattern of racial abuse. Allen's ambitious, breathtaking book challenges the moral composition of the world it inhabits by telling all who listen: I loved my cousin and he loved me, and I know he'd be alive if you loved him, too.
— Kiese Laymon - Washington Post

A compassionate retelling of an abjectly tragic story...Among the most valuable contributions Allen makes is forcing us to ask: To what end are we locking up our children? Are we not foreclosing their options before their lives have even begun?...Allen's analysis of gang culture—or "the parastate," as she calls it, with its own bylaws and tragic form of appeal—may be where she's at her ferocious best
— Jennifer Senior - New York Times

"[Cuz] address[es] issues worth pondering: how codes of masculinity constrain and cripple men, the lure of violence, the mysteries of human personality and the debts family members owe one another in dire circumstances…In writing about her cousin, Allen is also elegizing other black men victimized by poverty, drugs and unequal justice. Her blend of personal anguish and social consciousness evokes not just [John Edgar] Wideman, but Jesmyn Ward's 2013 memoir, Men We Reaped."

— Julia M. Klein - Chicago Tribune

Allen's memoir, Cuz: The Life and Times of Michael A., is a doleful and stirring narrative of how Michael Allen Alexander's magnetic smile slowly dimmed until he was found shot to death in the passenger seat of a car in Los Angeles…. Allen's heartbreak gives way to a well-researched expedition.

— Otis R. Taylor, Jr. - San Francisco Chronicle

She's rightfully angry at what happened to her cousin, but it doesn't hide her empathy for families who endure hardship to visit their imprisoned loved ones, and it doesn't lessen her humanity toward the people whose imprisonment doesn't make sense. That, mixed with an aching, soaring joy are what you'll find in 'Cuz,' and it's going to make you think—hard. Can you afford to miss that? No, make no mistake.
— Terri Schlichenmeyer - Oakland Post

The shattering story of her young cousin…'Cuz' is a powerful family memoir and study of the criminal justice system.
— Tom Beer - Newsday

Allen, whose writing is creative and accessible, uses her finely tuned talent to fold Michael's fate into the gathering storms of the U.S. criminal-justice system and Los Angeles' gang-related and racial turmoil. Both a searching, personal elegy and a sure-footed lamentation of the systems meant to protect us, this is a searing must-read.
— Annie Bostrom - Booklist, Starred review

[Allen] puts a face to the numbing statistics of incarcerated young black boys and men. . . . At its heart, Allen's book is both an outcry and entreaty as she grapples with a painful reality.
— Publishers Weekly

A literary and political event like Toni Morrison's Playing in the Dark, Danielle Allen's Cuz is an elegiac memoir and social jeremiad born out of the tragedy of mass incarceration. A loving cousin paying tribute to her brilliant and beloved but troubled 'cuz,' Allen hits a grand slam.

— Henry Louis Gates Jr., Director of the Hutchins Center for African and African American Research at Harvard University, and host of the PBS series Finding Your Roots

What starts as a personal memoir, an effort to resurrect from oblivion a beloved cousin who died young, modulates in Allen's hands into a cool, reasoned, but ultimately devastating indictment of the War on Drugs and the sentencing regime it has given birth to. In plain terms, stripped of the jargon of the social sciences, she shows us what can await if you are young, black, and unlucky in today's United States.
— J. M. Coetzee, Nobel Prize-winning author of The Life and Times of Michael K

In this narrative of freedom and incarceration, education and disadvantage, rehabilitation and punishment, Danielle Allen paints an unforgettable portrait of a cousin she loved. The pacing is brisk and novelistic, but the message is large and clear: we need urgently to reform the system through which we process juveniles who commit crime, because the current system perpetuates the very injustices it was designed to address.
— Andrew Solomon, National Book Award-winning author of The Noonday Demon and Far from the Tree

Cuz is riveting, painfully personal, and profoundly lucid in its history telling. Allen's crystalline voice amazes despite the most bewildering behemoth topic.

— Quiara Alegría Hudes, Pulitzer Prize-winning author of Water by the Spoonful
Liveright, 9781631494949, 256pp.
Publication Date: September 4, 2018
About the Author
Danielle Allen is the James Bryant Conant University Professor at Harvard University and author of Cuz and Our Declaration, winner of the Parkman Prize. She lives in Cambridge, Massachusetts.