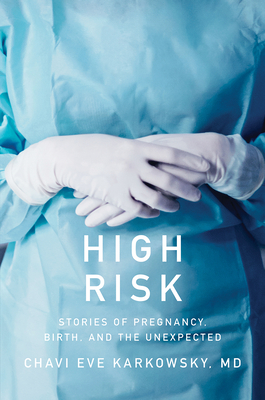 High Risk
Stories of Pregnancy, Birth, and the Unexpected
Hardcover

* Individual store prices may vary.
Other Editions of This Title:
MP3 CD (6/9/2020)
Description
A doctor's revelatory account of pregnancy and the complexity of reproductive life—and everything we lose when we don't speak honestly about women's health.
"My work offers a window into the darkest and lightest corners of people's lives, into the extremes of human experience," writes Dr. Chavi Eve Karkowsky in High Risk, her timely and unflinching account of working in maternal-fetal medicine—that branch of medicine that concerns high-risk pregnancies. Whether offering insight into the rise in home births, the alarming rise in America's maternal mortality rate, or the history of involuntary sterilization, Karkowsky offers a window into all that pregnancy, labor, and birth can entail—birth and joy, but also challenge and loss—illustrating the complexity of reproductive life and the systems that surround it. With historical insight and journalistic verve, Karkowsky unpacks what is involved for women, for a family, and for us as a society; and explores what's at risk when these aspects of medicine remain clouded in mystery and misinformation.
Praise For High Risk: Stories of Pregnancy, Birth, and the Unexpected…
Pregnancies don't always end up happily ever after, even in the skilled hands of a maternal-fetal medicine physician like Karkowsky. . . . [S]he provides a great deal of helpful information, carefully explaining an alphabet soup of acronyms . . . [S]he spells out why some pre-existing conditions in pregnant moms can lead to problems. . . . It's reassuring to know that maternal deaths are rare and that doctors try so hard to help at-risk moms and their babies meet the odds.
— Karen Springen, Booklist

In addition to graphic accounts of complications, Karkowsky also examines how pregnancy care is evolving—not always for the better.... Karkowsky urges better communication between doctors and nurses and doctors and patients, especially in conveying tragic news. She also makes frequent references to her own experiences as a wife and mother, subject to some of the risks she describes. A solid primer on pregnancy risks as well as a cogent plea for progress to make childbirth even less perilous.
— Kirkus Reviews

As a physician and mother expecting my second child, I found this book to portray pregnancy as the nuanced and poignant experience that it is. A compelling and engaging read.
— Dr. Leana Wen, physician, professor, and former President/CEO of Planned Parenthood

Dr. Karkowsky unflinchingly probes the expectations, precedents, myths, realities, and curveballs of modern pregnancy and delivery. This book is a significant contribution to the discourse about women's health and medicine today.
— Danielle Ofri, MD, PhD, author of When We Do Harm

Profound, gripping, unsparing, and compassionate, High Risk offers a nuanced examination of issues that impact so many of us, from a perspective we almost never get to hear. This is an important book that shines a critical light on the medicine and systems surrounding pregnancy and birth.
— Rabbi Danya Ruttenberg, author of Nurture the Wow

What a gift to find a voice like Dr. Karkowsky's in the literary conversation around birth. Her humility, introspection, self-examination, and expertise is precisely what we need from our most highly trained specialists.… A fascinating dispatch from the front lines of high-risk obstetrics.
— Elisa Albert, author of After Birth

Dr. Karkowsky knows her subject from the inside, and shows us, both through her narratives and her wise reflections on them, just why such 'knowledge is powerful and painful and damaging, but it's also powerful and healing and wonderful.'… Every doctor, medical student, and prospective parent should read it.
— Terrence Holt, author of Internal Medicine

An edifying and utterly enthralling meditation on the joys and sorrows of being a doctor at the frontlines of high-risk pregnancies. Dr. Chavi Eve Karkowsky is a clinician who loves what she does, who grapples with tough decisions and who cares deeply about women's reproductive health…This book should be mandatory reading for any woman who has been pregnant or considering pregnancy and everyone who provides health care to women."
— Randi H. Epstein, author of Aroused
Liveright, 9781631495014, 312pp.
Publication Date: March 10, 2020
About the Author
Chavi Eve Karkowsky, MD, is a maternal-fetal medicine physician working in New York City. Her writing has been published in Slate, the Daily Beast, the Atlantic, and the Washington Post.