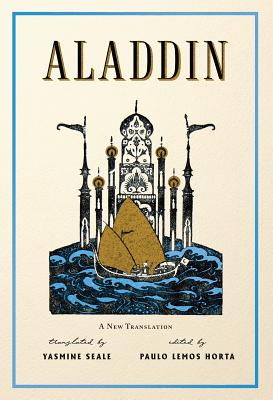 Aladdin
A New Translation
Hardcover

* Individual store prices may vary.
Other Editions of This Title:
Paperback (9/28/2021)
Description
A Buzzfeed Best Book of the Year

A dynamic French-Syrian translator, lauded for her lively poetic voice, tackles the enchanted world of Aladdin in this sparkling new translation.
Long defined by popular film adaptations that have reductively portrayed Aladdin as a simplistic rags-to-riches story for children, this work of dazzling imagination—and occasionally dark themes—finally comes to vibrant new life. "In the capital of one of China's vast and wealthy kingdoms," begins Shahrazad— the tale's imperiled-yet-ingenious storyteller—there lived Aladdin, a rebellious fifteen-year-old who falls prey to a double-crossing sorcerer and is ultimately saved by the ruse of a princess.
One of the best-loved folktales of all time, Aladdin has been capturing the imagination of readers, illustrators, and filmmakers since an eighteenth-century French publication first added the tale to The Arabian Nights. Yet, modern English translators have elided the story's enchanting whimsy and mesmerizing rhythms. Now, translator Yasmine Seale and literary scholar Paulo Lemos Horta offer an elegant, eminently readable rendition of Aladdin in what is destined to be a classic for decades to come.
Praise For Aladdin: A New Translation…
This new translation of the classic tale is, like the lamp at its center, darker, grubbier, and more twisted than its Disneyfied iteration, emphasizing its transgressive qualities.... Seale's text has a fluidity and an elegance that give even this diet of "dreams, smoke, and visions" a satisfying heft.
— The New Yorker

Elegant... Seale is careful to frame her translation with an account of Shahrazad herself, which not only gives it a sense of urgency, but also reminds us that the narrative voice is a female one—a fact that other adaptations and translations often miss. This world is one in which a woman can use the gift of story-telling to navigate the power of men. And this framing breathes new life into the female cast of Aladdin's story.
— Hetta Howes, Times Literary Supplement

It's not every day you come across a new translation of The Arabian Nights, but the French Syrian writer, Yasmine Seale, has rendered afresh the 18th-century version of Aladdin by Antoine Galland, and has done a cracking job.

— Melanie McDonagh, The Spectator

In her new translation of Aladdin, Seale provides a scintillating lens through which to view 'the tale that has never stopped traveling': the story of a boy and his magical lamp. Paired with a riveting introduction by Paulo Lemos Horta, Seale's work acknowledges the tangled history of Aladdin, from its initial appearance in French literature in 1709 to its controversial Disney adaptation in 1992.... Instead of severing or distinguishing herself from Aladdin's complicated origin, Seale approaches her own translation mindful of the story's Syrian-French hybridity as well as its context in the greater framework of the narratives of Scheherazade. What results is an elaborate poetic tapestry so glamorous and delightful that you can't help but want to read again.

— Madeline Day, The Paris Review

Yasmine Seale has brought Aladdin back to life: she captures the grace and the strangeness of the version collected and written down by Antoine Galland in the eighteenth century, and has found unexpected riches of fine, sly, parodic humor in a story which has suffered in its long, twisting history from manhandling, truncation, and an excess of pomp and ceremony. This is a fresh, witty, and vigorous retelling. 
— Marina Warner, Kirkus Reviews

Horta's contextualizing introduction and Seale's straightforward translation have convinced me that the joy can be in the telling, rather than the origins, of this story.... Yasmine Seale makes a tale that is almost too familiar new again in her smooth, dark, exciting interpretation of Aladdin."

— Amanda Hannoosh Steinberg, Public Books

Yasmine Seale's new translation of the classic tale reveals its surprising depth.
— Wendy Smith, Publishers Weekly

Seale's splendid translation introduces readers to the surprising depth of Aladdin's adventures while maintaining a classical feel.... This exhilarating translation will thrill fans of darker, more complex fairy tales and upend readers' preconceived image of Aladdin.
— Publishers Weekly

Yasmine Seale's vivacious prose resurrects a classic folktale that we thought we knew, and animates it with deeper meanings. This book is a superb example of translation as an art form. 
— Pankaj Mishra, Windham Campell Prize-winning author of Age of Anger: A History of the Present

Sparkling.... Seale's elegant new translation of Aladdin restores the tale to its roots. Tapping into her own Syrian-French background, Seale has worked from both Arabic and French sources to produce her captivating translation.... steeped in magic and stripped of some of the phony adornments that have diluted its essence over the centuries, [this] is a delightful retelling of the dreams and adventures of the wily young peasant boy who matures to become a beloved ruler.
— Robert Weibezahl, BookPage

A late addition to the Thousand and One Nights, this classic tale of magic lamps and jinni is revisited in a fresh translation. Themes of wish fulfillment and transformation have granted it infinite life, as fairy story, pantomime, film, and literary touchstone. If there are only seven basic stories in the world of literature, this is most probably one of them.

— Kirkus Reviews
Liveright, 9781631495168, 144pp.
Publication Date: November 27, 2018
About the Author
Paulo Lemos Horta is an associate professor of literature at New York University Abu Dhabi, and the author of Marvellous Thieves: Secret Authors of the Arabian Nights. He lives in Abu Dhabi and Barcelona.

Yasmine Seale is a writer who works across poetry, translation, criticism, and visual art.
or
Not Currently Available for Direct Purchase