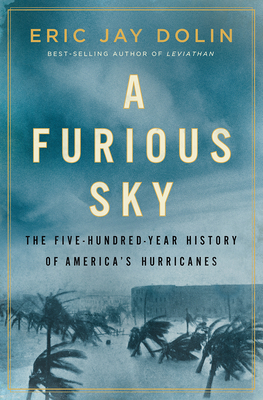 A Furious Sky
The Five-Hundred-Year History of America's Hurricanes
Hardcover

* Individual store prices may vary.
Other Editions of This Title:
Digital Audiobook (9/7/2020)
Paperback (6/1/2021)
Compact Disc (9/8/2020)
MP3 CD (9/8/2020)
Description
Washington Post • 50 Notable Works of Nonfiction in 2020

Finalist • Kirkus Prize for Nonfiction

Kirkus Reviews • Best Nonfiction Books of 2020

Library Journal • Best Science & Technology Books of 2020

Booklist • 10 Top Sci-Tech Books of 2020

New York Times Book Review • Editor's Choice

With A Furious Sky, best-selling author Eric Jay Dolin tells the history of America itself through its five-hundred-year battle with the fury of hurricanes.
Hurricanes menace North America from June through November every year, each as powerful as 10,000 nuclear bombs. These megastorms will likely become more intense as the planet continues to warm, yet we too often treat them as local disasters and TV spectacles, unaware of how far-ranging their impact can be. As best-selling historian Eric Jay Dolin contends, we must look to our nation's past if we hope to comprehend the consequences of the hurricanes of the future.
With A Furious Sky, Dolin has created a vivid, sprawling account of our encounters with hurricanes, from the nameless storms that threatened Columbus's New World voyages to the destruction wrought in Puerto Rico by Hurricane Maria. Weaving a story of shipwrecks and devastated cities, of heroism and folly, Dolin introduces a rich cast of unlikely heroes, such as Benito Vines, a nineteenth-century Jesuit priest whose innovative methods for predicting hurricanes saved countless lives, and puts us in the middle of the most devastating storms of the past, none worse than the Galveston Hurricane of 1900, which killed at least 6,000 people, the highest toll of any natural disaster in American history.
Dolin draws on a vast array of sources as he melds American history, as it is usually told, with the history of hurricanes, showing how these tempests frequently helped determine the nation's course. Hurricanes, it turns out, prevented Spain from expanding its holdings in North America beyond Florida in the late 1500s, and they also played a key role in shifting the tide of the American Revolution against the British in the final stages of the conflict. As he moves through the centuries, following the rise of the United States despite the chaos caused by hurricanes, Dolin traces the corresponding development of hurricane science, from important discoveries made by Benjamin Franklin to the breakthroughs spurred by the necessities of the World War II and the Cold War.
Yet after centuries of study and despite remarkable leaps in scientific knowledge and technological prowess, there are still limits on our ability to predict exactly when and where hurricanes will strike, and we remain terribly vulnerable to the greatest storms on earth. A Furious Sky is, ultimately, a story of a changing climate, and it forces us to reckon with the reality that as bad as the past has been, the future will probably be worse, unless we drastically reimagine our relationship with the planet.
Praise For A Furious Sky: The Five-Hundred-Year History of America's Hurricanes…
[A] lively chronicle of five tempestuous centuries . . . Where A Furious Sky is most compelling is in its often harrowing details. It's filled with haunting personal stories.

— Elizabeth Kolbert - New York Times Book Review

Fascinating and heart-wrenching.... Following the science, Dolin soberly concludes: 'Hurricanes of the future will most likely be worse than those of the past.
— Michael Taube - Washington Post

[A Furious Sky is] ultra readable maritime history.

— Lauren Daley - Boston Globe

[Dolin] blends lovely writing with clear explanations of technical concepts . . . With active language and sharp characters, he puts us in scene . . . Thanks to Dolin's reporting and framing, each hurricane is a different story that delivers its own lesson about human nature.
— Lyn Millner - Los Angeles Review of Books

[A] thoroughly engrossing book.
— Steve Donoghue - Christian Science Monitor

A fast-paced and informative history of American hurricanes from the 16th century through the 2017 season . . . Packed with intriguing miscellanea, this accessible chronicle serves as a worthy introduction to the subject. Readers will be awed by the power of these storms and the wherewithal of people to recover from them.
— Publishers Weekly

[A Furious Sky] is a wonderfully researched and vividly written testament to the tragedy, suffering, and science that have given rise to our still-limited understanding of these ferocious storms.

— Matt Murphy - WoodenBoat Magazine

Drawing on abundant sources. . . and with an academic background in environmental policy, Dolin, who has a doctorate in environmental policy, offers an authoritative and lively history of hurricanes . . . Besides chronicling the tense period leading up to landfall, the violent impact, the immediate responses, and the long-term recoveries, the author offers a fascinating history of weather forecasting. . . Dolin underscores the threat of global warming to worsen hurricanes and urges society to act quickly and boldly 'to counter this threat in any way we can.' A sweeping, absorbing history of nature's power.
— Kirkus Reviews [starred review]

Dolin (Leviathan) continues his series of popular histories. . . deftly weaving together tales of tragedy, heroism, and scientific progress from colonial times until the present. . . . Weather watchers, science buffs, and social historians will enjoy this history of the hurricane both as a chronology and for the individual tales of surviving nature's fury.

— Wade Lee-Smith - Library Journal

[T]his compelling book is much more than a meteorological history, it is a remarkably human story of people struggling with nature at its fiercest and the myriad ways hurricanes have affected the course of human events. . . . Many of [these] true tales of survival and loss will tug at the readers' heartstrings as Dolin makes them vivid and memorable.
— James Pekoll, Booklist [starred review]

The hurricane book to end all hurricane books.
— Les Standiford, author of Last Train To Paradise

This is a compelling fact-and anecdote-filled story of the most dramatic storms to have stunned and sometimes fractured America's coastal communities. But it is also a riveting foretelling of our future as the most destructive hurricanes in the past five centuries become commonplace. A Furious Sky joins that short list of books that are both must-reads and armchair page-turners.

— Tom Clavin, author of Dodge City

The big blows of centuries far and near have long deserved our attention and never more than today. As Eric Jay Dolin reminds us, hurricanes have been pivot points in the course of human history. Now, they are catapulting us toward our future, underscoring the compelling nature of A Furious Sky, which in rigor and scope is as formidable as the weather outside.

— Jack Davis, Pulitzer Prize–winning author of The Gulf

You can't really understand hurricanes without knowing their history. Eric Jay Dolin brings America's great hurricanes alive with rich stories about the storms and the people whose lives they changed forever. Understanding our hurricane history gives hurricane science depth and meaning. This is a hurricane book for everyone.
— Bryan Norcross, meteorologist and hurricane specialist, WPLG-TV Miami, and author of My Hurricane Andrew Story

A riveting mix of natural science, institutional history and human experience. All in a great read.
— H. W. Brands, two-time Pulitzer Prize Finalist and author of Dreams of El Dorado

A delightful blend of science, history, and masterful storytelling. Each of Dolin's storm stories carries its own horrifying details and historical significance. A Furious Sky puts Dolin in the lofty company of Nathaniel Philbrick and Lincoln Paine among the most important, and downright entertaining, chroniclers of American maritime history.

— Peter Houlahan, author of Norco '80: The True Story of the Most Spectacular Bank Robbery

A Furious Sky is an epic narrative of the most significant hurricanes that have affected the United States. It is a fascinating book that weaves together history, science, policy, political fallout, and the inevitable human drama of hurricanes. Gripping and entertaining, A Furious Sky is a worthy addition to the literature on these great storms.

— Lourdes B. Avilés, chair of the American Meteorological Society History Committee, and author of Taken by Storm, 1938
Liveright, 9781631495274, 432pp.
Publication Date: August 4, 2020
About the Author
Eric Jay Dolin is the best-selling author of numerous works in maritime history, including Black Flags, Blue Waters and Leviathan. A graduate of Brown, Yale, and MIT, he now lives in Marblehead, Massachusetts, with his family.