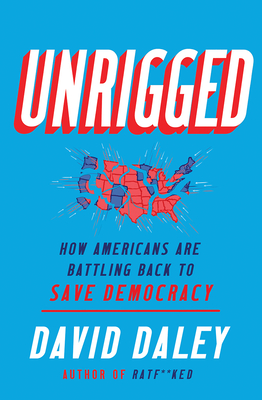 Unrigged
How Americans Are Battling Back to Save Democracy
Hardcover

* Individual store prices may vary.
Other Editions of This Title:
Paperback (1/5/2021)
Compact Disc (3/31/2020)
Description
A revelatory account by the best- selling author of Ratf**ked that will give you hope that America's fragile democracy can still be saved.
Following
Ratf**ked
, his "extraordinary timely and undeniably important" (
New York Times Book Review
) exposé of how a small cadre of Republican operatives rigged American elections, David Daley emerged as one of the nation's leading authorities on gerrymandering. In
Unrigged
, he charts a vibrant political movement that is rising in the wake of his and other reporters' revelations. With his trademark journalistic rigor and narrative flair, Daley reports on Pennsylvania's dramatic defeat of a gerrymander using the research of ingenious mathematicians and the Michigan millennial who launched a statewide redistricting revolution with a Facebook post. He tells the stories of activist groups that paved the way for 2018's historic blue wave and won crucial battles for voting rights in Florida, Maine, Utah, and nationwide. In an age of polarization,
Unrigged
offers a vivid portrait of a nation transformed by a new civic awakening, and provides a blueprint for what must be done to keep American democracy afloat.
Praise For Unrigged: How Americans Are Battling Back to Save Democracy…
A thoughtful and important follow-up to Daley's earlier book, Ratf**ked.

— Timothy Smith, Washington Post

Unrigged is largely a photograph of the national movement that his previous book helped spawn, and suggests the possibility of a nationwide grassroots voter rebellion.

— Skip Johnson, Charleston Post Courier

[A]n uplifting survey of grassroots efforts to make American democracy more inclusive. . . . Daley's wit (the offices of the Election Protection hotline are filled with "enough Starbucks cups to caffeinate The Walking Dead") and clear explanations of the electoral process make the book accessible to political neophytes as well as experts. This optimistic appraisal of the political scene will strike a chord with progressives gearing up for the 2020 elections.
— Publishers Weekly

An inspirational polemic about political involvement from a plethora of people in different areas.... Its strength... is displayed through the examination of activist work that brings to light the common humanity of society's marginalized populations.... This account shows the significance of more people getting involved in public service after the 2016 election. Best suited for civically engaged readers interested in a populist vision for political activism.
— Jesse A. Lambertson, Library Journal

An uplifting story of how grassroots political movements around the nation are forcing significant changes in how our government operates. . . . As Daley clearly shows throughout this inspiring text, it was always 'ordinary' citizens who led the way, often people who had never participated in politics. They took to the streets, circulated petitions, ran for office, and launched or joined organizations, and they did it while facing overwhelming odds and severe opposition from elected officials. But they never gave up, and they almost always won. A book for anyone who wants to effect major change but thinks they can't.
— Kirkus Reviews

He's back! David Daley's first book, Ratf**ked, was a fantastic read that exposed the politicians who rig maps and gerrymander themselves into office, regardless of the will of the people. This inspiring story of the everyday citizens who stood up, fought back, and won will restore your hope that in America, the people still have the power.

— Arnold Schwarzenegger

The wildly undersold story of the beginning of the next American revolution: If you ever needed hope, it is here. If you need a cause, it is here. If you want to mark the beginning of whenever everything changed, it is in the passion and the truth of what is told here: Daley has given us a picture of what democracy looks like. Or will, when this revolution is complete.
— Lawrence Lessig, Roy L. Furman Professor of Law and Leadership, Harvard Law School, and author of They Don't Represent Us

David Daley's work has fired up a generation of activists who are fighting to un-fuck it all up before time runs out. He is a must-read writer for this critical moment.
— Amanda Litman, Run For Something co-founder and executive director
Liveright, 9781631495755, 320pp.
Publication Date: March 17, 2020
About the Author
David Daley is the author of Ratf**ked. His journalism has appeared in the New Yorker, the Atlantic, Slate, the Washington Post, and New York magazine. He is a senior fellow at FairVote, the former editor of Salon, and lives in Massachusetts.