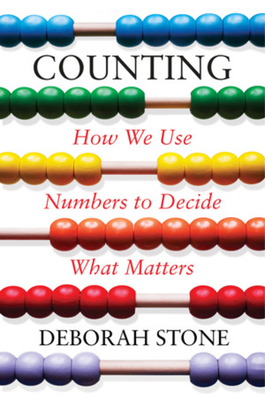 Counting
How We Use Numbers to Decide What Matters
Hardcover

* Individual store prices may vary.
Other Editions of This Title:
Digital Audiobook (11/9/2020)
Paperback (9/14/2021)
Compact Disc (10/6/2020)
MP3 CD (10/6/2020)
Description
"Deborah Stone's mind-altering insight is that the numbers we use to capture the human experience are themselves a form of creative story-telling. They shouldn't end the conversation, but spark a deeper and richer one. Counting deserves five stars for showing why five stars can never tell the whole story." —Jacob S. Hacker, co-author of Let Them Eat Tweets: How the Right Rules in an Age of Extreme Inequality
What do people do when they count? What do numbers really mean? We all know that people can lie with statistics, but in this groundbreaking work, eminent political scientist Deborah Stone uncovers a much deeper problem. With help from Dr. Seuss and Cookie Monster, she explains why numbers can't be objective: in order to count, one must first decide what counts. Every number is the ending to a story built on cultural assumptions, social conventions, and personal judgments.
And yet, in this age of big data and metric mania, numbers shape almost every facet of our lives: whether we get hired, fired, or promoted; whether we get into college or out of prison; how our opinions are gathered and portrayed to politicians; or how government designs health and safety regulations. In warm and playful prose, Counting explores what happens when we measure nebulous notions like merit, race, poverty, pain, or productivity.
When so much rides on numbers, they can become instruments of social welfare, justice, and democracy—or not. The citizens of Flint, Michigan, for instance, used numbers to prove how their household water got contaminated and to force their government to take remedial action. In stark contrast, the Founding Fathers finessed an intractable conflict by counting each slave as three-fifths of a person in the national census. They set a terrible precedent for today's politicians who claim to solve moral and political dilemmas with arithmetic.
Suffused with moral reflection and ending with a powerful epilogue on COVID-19's dizzying statistics, Counting will forever change our relationship with numbers.
Praise For Counting: How We Use Numbers to Decide What Matters…
A delightful takedown of our unreasonable worship of numbers. . . . In 1954, Darrell Huff's bestselling How to Lie With Statistics began a genre that continues to produce numerous books each year. Stone . . . casts an equally critical eye but delves far more deeply into the subject. . . . As Stone lays out her examples of irrational faith in numbers, readers will squirm, but not with disbelief. . . . Enthralling evidence that there is less to numbers than meets the eye.

— Kirkus Reviews, starred review

[An] incisive treatise. . . . Stone distills a wealth of thinking about statistics and their psychological and social foundations into lucid, engaging prose, illustrated with piquant graphics and cartoons . . . [This] is a stimulating layperson's guide to the pseudo-mathematical rationalizations behind so much of what governments do.
— Publishers Weekly

In this splendid book, Deborah Stone reveals that what we count depends
on what we consider important, which in turn reflects how we make
meaning out of a world of infinite facts and possibilities. Required
reading for anyone who's interested in the truth.
— Robert B. Reich, Chancellor's Professor of Public Policy, University of California, Berkeley

Deborah Stone's inspired book could not be better timed. Endless arguments about how to construct and understand COVID-19 statistics prove her point—ostensibly objective numbers are never neutral. Stone brings to this endeavor her signature brilliance at demystifying daunting topics.
— Robert Kuttner, coeditor of American Prospect

Deborah Stone makes clear in her delightful new book that counting, that most basic mathematical activity, is anything but basic or mathematical when the topic is the social world. . . . The book is both enlightening and a joy to read.
— John Allen Paulos, author of Innumeracy and A Mathematician Reads the Newspaper

Anyone who believes that 2 × 30 is equal to 3 × 20 is in for a delightful surprise.
— Charles Wheelan, author of Naked Statistics

How does Deborah Stone keep doing this? She has an unerring ability to see our culture in an entirely new light and transform the way we think. Every page sparkles with insight and delight.
— Colonel Wallace Earl Walker, PhD, U.S. Army, retired, founding dean of the Citadel School of Business Administration

This book is hard to put down. With a sharp wit and vivid examples from real life, Stone shows that numbers are never as straightforward as we're taught in school. Whether they inform or mislead depends a lot on who is using them and why.
— Marcia Angell, MD, former editor-in-chief, New England Journal of Medicine

An indispensable triumph.
— Virginia Eubanks, author of Automating Inequality

Deborah Stone's book, reckoning with the mechanisms and myths of numbers—but also with their morality and politics—adds up to a profound meditation on this essential yet so rarely considered marker of the human. . . . An enlightenment and a call for justice.
— James Carroll, author of The Cloister
Liveright, 9781631495922, 312pp.
Publication Date: October 6, 2020
About the Author
Deborah Stone is a renowned scholar who has taught at Brandeis, MIT, and other universities around the world. Her award-winning book Policy Paradox has captivated readers through three decades, four editions, and six translations—but who's counting? She lives in Brookline, Massachusetts.
or
Not Currently Available for Direct Purchase