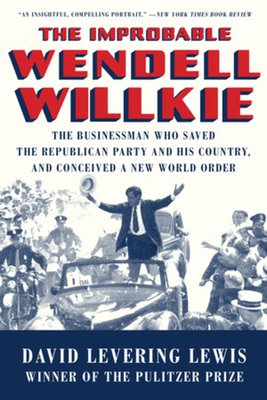 The Improbable Wendell Willkie (Paperback)
The Businessman Who Saved the Republican Party and His Country, and Conceived a New World Order
Liveright, 9781631496257, 416pp.
Publication Date: November 19, 2019
Other Editions of This Title:
Compact Disc (11/27/2018)
Hardcover (9/18/2018)
* Individual store prices may vary.
Description
From a two-time Pulitzer-winning historian comes an "insightful, compelling portrait" (New York Times Book Review) of Wendell Willkie, the businessman-turned-presidential candidate.
Hailed as "the definitive biography of Wendell Willkie" (Irwin F. Gellman), The Improbable Wendell Willkie offers an "engrossing and enlightening appraisal" (Ira Katznelson) of a prominent businessman and Wall Street attorney presidential candidate who could have saved America's sclerotic political system. Although Willkie lost to FDR in 1940, acclaimed historian David Levering Lewis demonstrates that the story of this Hoosier- born corporate chairman's life is "a powerful reminder of practical bipartisanship, visionary internationalism, and committed civil liberties and civil rights" (Katrina vanden Heuvel). Popular for his downhome mid-western charm and unaffected candor, Willkie possessed a supple intellect and a concealed disdain for political opportunism that, had he not died prematurely, would have revolutionized American politics with its advocacy of bipartisanship and social responsibility. "Meticulously researched and brilliantly written" (Douglas Brinkley),
The Improbable Wendell Willkie
"brings the now largely unknown Willkie to a new generation" (
The New Yorker
), reclaiming the legacy of an American icon.
About the Author
David Levering Lewis, the author of God's Crucible, is professor emeritus of history at New York University. A recipient of the National Humanities Medal, Lewis received the Pulitzer Prize for each volume of his W.E.B. Du Bois biography. He lives in New York City.