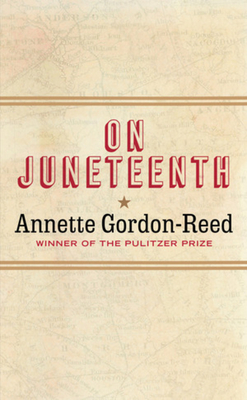 On Juneteenth
Hardcover

* Individual store prices may vary.
Description
The essential, sweeping story of Juneteenth's integral importance to American history, as told by a Pulitzer Prize–winning historian and Texas native.
Weaving together American history, dramatic family chronicle, and searing episodes of memoir, Annette Gordon-Reed's On Juneteenth provides a historian's view of the country's long road to Juneteenth, recounting both its origins in Texas and the enormous hardships that African-Americans have endured in the century since, from Reconstruction through Jim Crow and beyond. All too aware of the stories of cowboys, ranchers, and oilmen that have long dominated the lore of the Lone Star State, Gordon-Reed—herself a Texas native and the descendant of enslaved people brought to Texas as early as the 1820s—forges a new and profoundly truthful narrative of her home state, with implications for us all.
Combining personal anecdotes with poignant facts gleaned from the annals of American history, Gordon-Reed shows how, from the earliest presence of Black people in Texas to the day in Galveston on June 19, 1865, when Major General Gordon Granger announced the end of legalized slavery in the state, African-Americans played an integral role in the Texas story.
Reworking the traditional "Alamo" framework, she powerfully demonstrates, among other things, that the slave- and race-based economy not only defined the fractious era of Texas independence but precipitated the Mexican-American War and, indeed, the Civil War itself.
In its concision, eloquence, and clear presentation of history,
On Juneteenth
vitally revises conventional renderings of Texas and national history. As our nation verges on recognizing June 19 as a national holiday,
On Juneteenth
is both an essential account and a stark reminder that the fight for equality is exigent and ongoing.
Praise For On Juneteenth…
In a series of short, moving essays, [Gordon-Reed] explores "the long road" to June 19, 1865, when Maj. Gen. Gordon Granger announced the end of legalized slavery in Texas, the state where Gordon-Reed was born and raised.... No matter what she's looking at, Gordon-Reed pries open this space between the abstract and particular.... One of the things that makes this slender book stand out is Gordon-Reed's ability to combine clarity with subtlety, elegantly carving a path between competing positions, instead of doing as too many of us do in this age of hepped-up social-media provocations by simply reacting to them. In On Juneteenth she leads by example, revisiting her own experiences, questioning her own assumptions — and showing that historical understanding is a process, not an end point.

— Jennifer Szalai - New York Times

Gordon-Reed is the textbook definition of public intellectual; and yet she gets personal in this slender, evocative memoir, blending gorgeous details from her small-town Texas girlhood with the unofficial celebration of slavery's demise and the broader canvas of race in America.
— Oprah Daily, "Best Books to Pick Up This May"

[Gordon-Reed] offers a thoughtful and affectionate meditation on the state in which, despite its dualities, she still feels most at home. Where others might see a simple picture of unreconstructed racism, Gordon-Reed sees — and dissects — complexities that largely defy stereotypes. In so doing, she makes On Juneteenth an important part of the discussion about who and what we are as 21st-century Americans.... Gordon-Reed brings her substantial intellect to this intimate exploration of her home state.

— Eugene L. Meyer - Washington Independent Review of Books

As Juneteenth morphs from a primarily Texan celebration of African American freedom to a proposed national holiday, Gordon-Reed urges Texans and all Americans to reflect critically on this tangled history. A remarkable meditation on the history and folk mythology of Texas from an African American perspective.
— Lesley Williams, Booklist, starred review

Pulitzer-winner Gordon-Reed (The Hemingses of Monticello) interweaves history, politics, and memoir in these immersive and well-informed essays reflecting on the history of Juneteenth.... Despite the thorny racial history, Gordon-Reed expresses a deep fondness for her native state, writing that 'love does not require taking an uncritical stance toward the object of one's affections.' This brisk history lesson entertains and enlightens.

— Publishers Weekly

A concise personal and scholarly history that avoids academic jargon as it illuminates emotional truths.
— Kirkus Reviews
Liveright, 9781631498831, 144pp.
Publication Date: May 4, 2021
About the Author
Annette Gordon-Reed is the Carl M. Loeb University Professor at Harvard University. The author of Pulitzer Prize–winning The Hemingses of Monticello, she lives in New York and Cambridge.