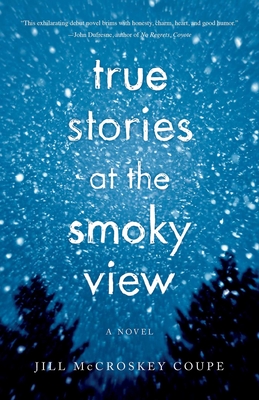 True Stories at the Smoky View
Paperback

* Individual store prices may vary.
Description
IPPY Gold Medal for Regional Fiction (South)
True Stories at the Smoky View is a wry, intricate novel about family and friendship, tyranny and justice. Although Vrai (short for Vraiment), an art history librarian in Baltimore, has not spoken to her friend Skip for over a year, after his sudden death, she dutifully takes his ashes and his dog home to his mother in Knoxville, Tennessee. Vrai has no idea why Skip stepped into traffic in Baltimore with his hands over his eyes, or why he so abruptly ended their longtime friendship.
After Skip's service, Vrai rescues ten-year-old Jonathan, who has been abandoned in the funeral home parking lot. The Blizzard of 1993 soon strands this unlikely duo at the Smoky View Motel, where Jonathan, whose parents were assassinated by Pinochet's henchmen, comes across clues pointing to a possible suspect in Skip's death.
By the end of this story of mutual rescue, both Vrai's and Jonathan's lives have been changed forever.
She Writes Press, 9781631520518, 324pp.
Publication Date: April 5, 2016
1. When True Stories at the Smoky View begins, Vrai is irritated with Skip, even though she has come to Knoxville for his funeral. Why is she so angry? Does her attitude toward Skip change by the end of the novel?
2. Did Vrai kidnap Jonathan or did she rescue him? Would you have driven off with the boy the way she did or would you have come up with some other solution?
3. What role do Skip's "True Stories" play? Do you think Skip would have been able to publish these stories? Are they any good?
4. Is this a road trip/adventure novel, a mystery, a love story, or does it fall into some other category?
5. What three adjectives best describe Frank?
6. Are there ways in which Frank Leigh and Rupert Brill are similar? How are they different?
7. Why do you think the author named the main character Vraiment? Does Vrai fit the stereotype of a librarian?
8. What motivates Vrai and Jonathan in their search for justice? Where Frank is concerned, do they succeed?
9. On page 311 we're told that "Vrai seems to have sworn off men." What's your reaction to the evolution of her character that leads her to this point?
10. What happens to the characters atop Mauna Kea in Hawaii? Did you find the ending satisfying?