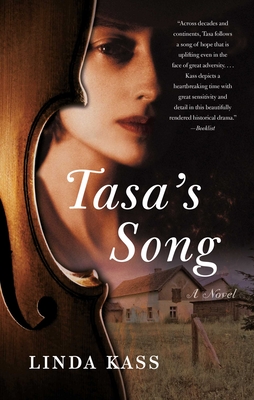 Tasa's Song
Paperback

* Individual store prices may vary.
Description
An extraordinary novel inspired by true events.
1943. Tasa Rosinski and five relatives, all Jewish, escape their rural village in eastern Poland--avoiding certain death--and find refuge in a bunker beneath a barn built by their longtime employee.
A decade earlier, ten-year-old Tasa dreams of someday playing her violin like Paganini. To continue her schooling, she leaves her family for a nearby town, joining older cousin Danik at a private Catholic academy where her musical talent flourishes despite escalating political tension. But when the war breaks out and the eastern swath of Poland falls under Soviet control, Tasa's relatives become Communist targets, her new tender relationship is imperiled, and the family's secure world unravels.
From a peaceful village in eastern Poland to a partitioned post-war Vienna, from a promising childhood to a year living underground, Tasa's Song celebrates the bonds of love, the power of memory, the solace of music, and the enduring strength of the human spirit.
2016 Bronze Medal - Historical Fiction --Independent Publisher Book Awards (IPPY)

She Writes Press, 9781631520648, 256pp.
Publication Date: May 3, 2016
1. Discuss the role music plays in Tasa's life and in the novel. What significance did Klezmer music and Gypsy references bring to the novel?
2. Why do you think the author chose to tell the story from Tasa's point of view? Was this approach effective?
3. How does Tasa's character change over the course of the novel? Describe some of her unique qualities.
4. Share your thoughts about how the relationship between Danik and Tasa began and ended. Were there alternatives to the choices they made?
5. Discuss the role family plays in Tasa's life.
6. What was the significance of Frau Rothstein as a character in this story? Of Josef Gnyp?
7. What role does religion play in the lives of these characters? How does it help them deal with adversity and respond to anti- Semitism? Why do you think Salomon denied that their lives as Jews were in danger?
8. What is the significance of the zloty coin?
9. Discuss the novel's settings—Podkamien, Brody, Vienna. Did these locales feel authentic to you? How did they enhance the  story for you?
10. How does Tasa keep her memories of her mother from fading during their five years of separation? How does their relationship evolve as the novel unfolds?
11. Explain why the teenagers' prank in Brody was critical to the narrative. What did it reveal about Tasa and her friends? About the Soviet occupation of eastern Poland?
12. Did you like reading the letters that were inserted at various points in the novel? Why or why not?
13. As the novel ends, what kind of future does Tasa imagine for herself in Atlantic City?
14. Did knowing that this novel is inspired by actual events affect your interest in, and attachment to, the characters? Which characters did you like best, and why?