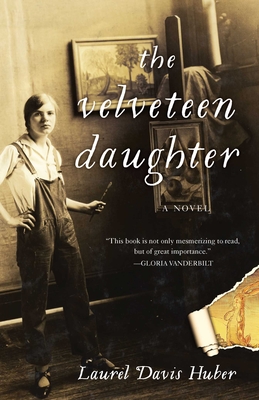 The Velveteen Daughter
Paperback

* Individual store prices may vary.
Description
The Velveteen Daughter reveals for the first time the true story of two remarkable women: Margery Williams Bianco, the author of one of the most beloved children's books of all time, The Velveteen Rabbit, and her daughter Pamela, a world-renowned child prodigy artist whose fame at one time greatly eclipses her mother's. But celebrity at such an early age exacts a great toll. Pamela's dreams elude her as she struggles with severe depressions, an overbearing father, an obsessive love affair, and a spectacularly misguided marriage. Throughout, her life raft is her mother. The glamorous art world of Europe and New York in the early 20th century and a supporting cast of luminaries--Eugene O'Neill and his wife Agnes (Margery's niece), Pablo Picasso, Gertrude Vanderbilt Whitney, and Richard Hughes, author of A High Wind in Jamaica--provide a vivid backdrop to the Biancos' story. From the opening pages, the novel will captivate readers with its multifaceted and illuminating observations on art, family, and the consequences of genius touched by madness.
She Writes Press, 9781631521928, 416pp.
Publication Date: July 11, 2017
1. What is the relationship between Pamela and Margery? Do you find it problematical? What about the relationship between Pamela and Francesco?
2. How does Pamela's illness manifest itself? When does it begin? Do you think it was inevitable (simply inherited), or do you think it had to do with circumstances in her life? What was the cause of her breakdown?
3. Do you agree with Margery's decision to allow Francesco take charge of their young prodigy daughter? Did she reconcile herself to her decision? What do you think you would have done?
4. What is your opinion about Agnes and Eugene O'Neill? What effect did the O'Neills and their relationship have on Pamela?
5. What role does the classic children's book The Velveteen Rabbit play in the novel? Do you see any correlations between the themes of that story and the events portrayed in The Velveteen Daughter?
6. What do you think of Francesco? What are his feelings about his daughter? His wife?
7. How do you interpret Pamela's feelings and actions with regard to Diccon? Is she willfully blind? How did their relationship develop, and how does it change?
8. What does Pamela reveal to Henry, her doctor at Four Winds? What is it that she cannot tell him? Why?
9. Why did Pamela marry Robert? What do you think of Robert? Do you think Pamela was right never to talk of Robert to Lorenzo?
10. What are Pamela's actions and feelings at the end of the novel? What do they say about her state of mind? Do you think she has changed since we first see her in the opening chapters as a young mother?
11. Many primary materials are quoted in this novel? Does this make the narrative more effective? Is it distracting?
12. How do you feel about the fictionalization of the lives of Pamela and Margery