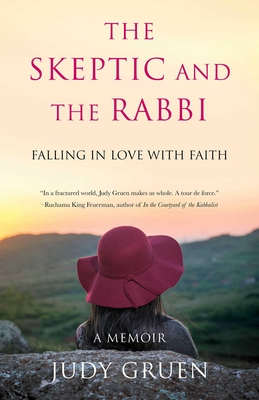 The Skeptic and the Rabbi (Paperback)
Falling in Love with Faith
She Writes Press, 9781631523021, 256pp.
Publication Date: September 5, 2017
* Individual store prices may vary.
Description
As Judy Gruen walked down the aisle and into her Orthodox Jewish future, her bouquet quivered in her shaky hand. Having grown up in the zeitgeist that proclaimed, "If it feels good, do it," was she really ready to live the life of "rituals, rules, and restraints" that the Torah prescribed? The Skeptic and the Rabbi is a rare memoir with historical depth, spirituality, and intelligent humor. Gruen speaks with refreshing honesty about what it means to remain authentic to yourself while charting a new yet ancient spiritual path at odds with the surrounding culture, and writes touchingly about her family, including her two sets of grandparents, who influenced her in wildly opposite ways. As she navigates her new life with the man she loves and the faith she also loves--surviving several awkward moments, including when the rabbi calls to tell her that she accidentally served unkosher food to her Shabbat guests--Gruen brings the reader right along for the ride. Reading this wry, bold and compelling memoir, you'll laugh, you'll cry, and when you're finished, you may also have a sudden craving for chicken matzo ball soup--kosher, of course.