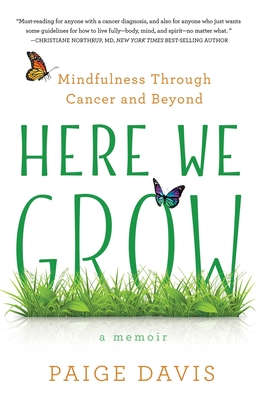 Here We Grow
Mindfulness Through Cancer and Beyond
Paperback

* Individual store prices may vary.
Description
After a lifetime of seeking all things spiritual, wellness, and at times woo-woo, Paige Davis finds herself facing a breast cancer diagnosis at thirty-eight years old. She quickly realizes, however, that cancer is not her crisis point but a landing pad of experiences that's inviting her to integrate her mind, body, and spirit. Ultimately, she embraces her diagnosis through a lens of love rather than as a battle to be fought--a perspective that allows her to find peace in the present moment, and heal from the inside out. In Here We Grow, Davis provides a refreshing new paradigm of integrative living that doesn't deny the hardship of a situation, but instead encourages meeting difficulty through embodied heart-centered presence. Utilizing mindfulness, meditation, and mind-body disciplines, she shares a tool kit for transformation as she learns to befriend her body, cope through compassion, face survivor's guilt, create a "new normal" post treatment, and discover the unexpected awakening of intuition and open-heartedness in the healing journey. Filled with honesty, humor, and present-moment awareness that reveals our true capacity for joy, connection, grace, and resilience, Here We Grow is Davis's story of meeting fear and uncertainty with mindfulness, meaning, and the unconditional love inherent in us all.
She Writes Press, 9781631523816, 154pp.
Publication Date: May 22, 2018