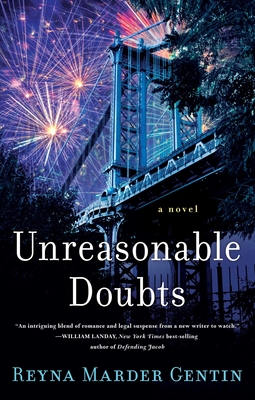 Unreasonable Doubts
Paperback

* Individual store prices may vary.
Description
Jaded New York City Public Defender Liana Cohen would give anything to have one client in whom she can believe. Dozens of hardened criminals and repeat offenders have chipped away at her faith in both herself and the system. Her boyfriend Jakob's high-powered law firm colleagues see her do-gooder job as a joke, which only adds to the increasing strain in their relationship.
Enter imprisoned felon Danny Shea, whose unforgivable crime would raise a moral conflict in an attorney at the height of her idealism--and that hasn't been Liana in quite a while. But Danny's astonishing blend of good looks, intelligence, and vulnerability intrigues Liana. Could he be the client she's been longing for--the wrongly accused in need of a second chance? Is he innocent? As their attorney-client relationship transforms into something less than arm's length, Liana is forced to confront fundamental questions of truth, faith, and love--and to decide who she wants to be.
She Writes Press, 9781631524134, 320pp.
Publication Date: November 13, 2018
1. At the beginning of the novel, Liana is frazzled and barely able to hold it together at work. How would you diagnose her problem? Is she burnt out? Having a moral crisis? Out of step with her colleagues? What sort of struggles have you had on the job, and how have you handled them?
2. Liana is curious about traditional Judaism. What has led her to explore her faith? How would you describe Rabbi Nacht's approach to pastoral counseling, and does his advice work for Liana? Has there ever been a time in your life where you have relied on a religious leader to provide guidance on personal matters? Would you feel comfortable doing so?
3. Jakob has chosen a career path very different from Liana's. Is there truth to Liana's perception that Jakob and the corporate attorneys at his firm look down on her work? Is it possible that Liana is creating an excuse to distance herself from Jakob? Do you think that Liana is resistant to playing a traditional role in the relationship? Does her understanding of partnership change over the course of the novel?
4. At the trial, Danny Shea and Jennifer Nash describe what started out as a consensual sexual encounter, yet the stories diverge when they have intercourse. Whom did you find more credible? Liana's perception was affected by the fact that Danny sat in the lobby with Jennifer's purse, inadvertently leading to his arrest. What did you think?
5. In the Ethiopian restaurant Liana tells Frank's girlfriend Marissa that rape is not sexy. What is Marissa getting at with her question? Is she asking about power, danger, seduction, or something else? Is there ever room for nuance?
6. On one level, Jakob and Danny seem to be polar opposites, and yet Liana is drawn to them both. What does Jakob offer Liana that Danny could not? What is it about Danny that Liana finds so compelling? Each tells Liana she is at the center of his world. What do they mean and how do they show it? And why is that so important to Liana?
7. Deb asks a lot of Liana. Why, when needing help, do you think Deb chose Liana over other friends and associates? Is there any truth to the notion that "work" friends are different from "real" friends? How does that play out here, and how does Liana's relationship with Deb change? How is Liana different with Deb than she is with Katie and Charlotte? Is there a point when Deb crosses over? How does Deb's situation affect Liana's thinking about her own life?
8. What did you think of Liana's mother's cautionary advice that marriage has idyllic moments, but can also be wrenching and turbulent? What about the more retro model of marriage presented by Jakob's parents? Are these different views consistent with the idea of finding your ezer kenegdo (oppositional helper) espoused by Rabbi Nacht?
9. What do you feel is the difference between "getting off on a technicality," and preserving a person's Constitutional right to a fair trial?
10. At the end of the novel, how have your feelings about Jakob, Danny, and Liana changed? How has Liana grown? Will she be successful personally and professionally going forward? Will she be happy?