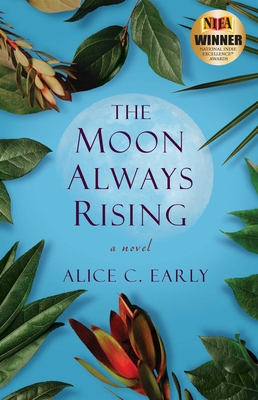 The Moon Always Rising
Paperback

* Individual store prices may vary.
Description
In 1998, fiery Eleanor "Els" Gordon thought the new century would find her married to her childhood soul mate, rejuvenating her family's Scottish Highlands estate, and finally earning a managing director title at her investment bank. Maybe she'd even have the courage to discover why her estranged mother ran home to Italy thirty years earlier. But when 2000 dawns, Els is mourning her fianc and her father, and she's unemployed, broke, and sharing an antique plantation house on the Caribbean island of Nevis with the ghost--or "jumbie"--of Jack Griggs, the former owner. Jack's jumbie wangles Els's help in making amends for wrongs committed during his Casanova life, and in exchange he appoints himself Cupid on behalf of a charter captain who's as skittish about vulnerability as Els. Meanwhile, Els lures her mother to Nevis in hopes of unraveling the family secrets--but will the shocking truth set her free, or pull her fragile new happiness apart? A moving and lyrical novel that transports readers from lush tropics to rugged highlands and back again, The Moon Always Rising explores how the power of forgiveness can help even the most damaged person fix whatever is broken.
Praise For The Moon Always Rising…

The Moon Always Rising takes your imagination on a trip to lush Caribbean Nevis and the Scottish Highlands in an engrossing story about how love and forgiveness help broken people mend. I especially loved the fabulous ghost (jumbie)—such a unique and intriguing character!"
—Martha Hall Kelly, author of international bestseller Lilac Girls and its prequel Lost Roses

"Alice Early gifts us with a smorgasbord of never-dull ex-patriots on the sunny, vibrant island of Nevis. There's a ghost, witty and concupiscent in his afterlife; a charter sailor who is trying to forget; and a Jamaican Rastafarian with a surprising secret up his sleeve. Best of all, there's Ms. Early's heroine, the comely and fractious Scot. Eleanor Gordon. Bad luck, betrayal, and numbing tragedy have pursued 'Els' to Nevis, where, maybe, she can dare to open her heart and let the world back in. A rich and intelligent novel written with grace and style."
—John T. Hough, Jr., author of The Fiction Writer's Guide to Dialogue and the award-winning novel Seen the Glory
She Writes Press, 9781631526831, 384pp.
Publication Date: April 21, 2020