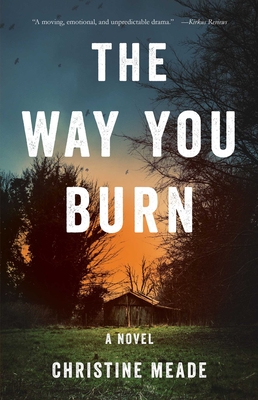 The Way You Burn
Paperback

* Individual store prices may vary.
Description
When David approaches his New Hampshire cabin one cool October night to find it engulfed in flames, he knows his girlfriend Hope set the fire. At least, he's pretty sure he knows. David first decides to upend the creature comforts of his post-collegiate life and try roughing it for a year after he inherits two acres of land and a rustic cabin from his deceased grandfather. Life at the cabin proves to be more difficult than expected, however, and it all starts with the woman he loves--Hope--whose dark past is written in the twisting pink scars covering her body. Their relationship is challenged after his car slides through an intersection one dark night and, later, his realization that someone is out there, watching him through the trees. Over the course of five seasons, David struggles to maintain his relationship with Hope. Ultimately, in an attempt to understand the sacrifices she has had to make, he decides to rewrite their story. In doing so, he explores the lessons he's left with--after everything he thought mattered is gutted or burned away--and the surprising bits of wisdom he finds in the ashes.
Praise For The Way You Burn…
"A moving, emotional, and unpredictable drama."
―Kirkus Reviews

"Mysterious, vivid, and deftly drawn, The Way You Burn explores the perils of intimacy and the psychic burdens of the past. You'll stay up late turning pages as if they were hot to the touch."
―Molly Prentiss, author of Tuesday Nights in 1980

"The Way You Burn is a thrilling mystery, a complex romance, and a beautifully written character study all in one. I loved the vivid, poetic prose and tight storytelling, and I know the characters will stay with me for a long time. A gorgeous, haunting debut!"
―Sonia Belasco, author of Speak of Me As I Am
She Writes Press, 9781631526916, 272pp.
Publication Date: April 14, 2020