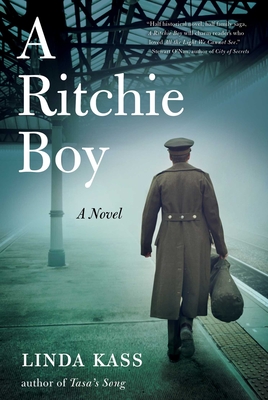 A Ritchie Boy
Paperback

* Individual store prices may vary.
Other Editions of This Title:
Hardcover (9/1/2020)
Description
From the author of Tasa's Song, an extraordinary narrative about one young immigrant's triumph in America, inspired by true events. 1938. Eli Stoff and his parents, Austrian Jews, escape to America just after Germany takes over their homeland. Within five years, Eli enlists in the US Army and, thanks to his understanding of the German language and culture, joins thousands of others like him who become known as Ritchie boys, young men who work undercover in Intelligence on the European front to help the Allies win World War II. In A Ritchie Boy, different characters tell interrelated stories that, together, form a cohesive narrative about the circumstances and people Eli encounters from Vienna to New York, from Ohio to Maryland to war-torn Europe, before he returns to the heartland of his new country to set down his roots. Set during the dawn of World War II and the disruptive decade to follow, A Ritchie Boy is the poignant, compelling tale of one young immigrant's triumph over adversity as he journeys from Europe to America, and from boyhood to manhood.
Praise For A Ritchie Boy…
"Linda Kass's eagerly anticipated second novel, A Ritchie Boy, is an engrossing, deeply moving story of the immigrant journey, a profound and timely reminder of how refugees have woven their strengths, talents, successes, and sacrifices into the fabric of America."
—Jennifer Chiaverini, New York Times best-selling author of Resistance Women

"A mesmerizing kaleidoscope of stories about displacement, finding home, and the kindness of strangers. Haunting and heartfelt."
––Fiona Davis, national best-selling author of The Chelsea Girls

"From Vienna during the Anschluss to booming post-war Columbus, Linda Kass has done her homework. Half historical novel, half family saga, A Ritchie Boy will charm readers who loved All the Light We Cannot See."
––Stewart O'Nan, author of City of Secrets

"I devoured A Ritchie Boy over a single weekend. What a rich, beautiful book Linda Kass has written. I found such poignancy and delight in every facet of these characters' lives. This is first-rate historical fiction."
—Alex George, national and international bestselling author of A Good American and The Paris Hours

"How did a whole generation of the Jews who were lucky enough to escape Hitler manage to reinvent themselves in America? In A Ritchie Boy, Linda Kass lovingly explores the spirit and the process of one such transformation. A compelling story of empathy, resilience, and the power of the American dream."
––Nina Barrett, Owner of Bookends & Beginnings

"A Ritchie Boy interweaves characters from Kass's first novel, Tasa's Song—providing a rich context of place and perseverance during the darkness surrounding World War II. The everyday human spirit is unmasked by the revelation of profound life experiences in this engaging tale that will appeal to public library customers."
—Patrick Losinski, CEO, Columbus Metropolitan Library

"Historical fiction is a literary time machine. Thanks to the talent and imagination of Linda Kass, this journey back to the tragic days of World War II is both solemn and joyous – solemn because of the ghastly shadow of Nazism overtaking Europe, and joyous because of the forces of light that rose up to oppose it. These linked stories create a seamless and poignant whole, a deeply felt, richly described, and quietly moving meditation on faith, passion, sacrifice, struggle, and the everlasting power of family love."
––Julia Keller, Pulitzer Prize-winning journalist and author of Sorrow Road: A Novel

"Linda Kass's A Ritchie Boy is a splendid gathering of memorable characters and stories about what it takes to leave a home, to travel to a new country, to find a way to not only survive there but to thrive. This story of persistence will warm you with its indomitable belief in family and in love."
––Lee Martin, author of the Pulitzer Prize Finalist The Bright Forever

"Trust Linda Kass to write delicately and compassionately about the pain and bravery required of refugees. Although her milieu is the Second World War, and the host country is the American Mid-West, this gem of a book resonates profoundly even today."
––Helen Schulman, Author of Come With Me

"Filled with rich historical detail and strikingly beautiful turns of phrase, this novel-in-stories moved me, inspired me, and transported me to a different time and place the way only the best tales do. Linda Kass is a masterful storyteller with a knack for taking hold of the reader's heart simply, gently, skillfully in a way that makes it easy to be swept away by her words. I highly recommend A Ritchie Boy."
—Kristin Harmel, international best-selling author of The Room on Rue Amelie and The Winemaker's Wife

"Told as a series of interconnected stories, Linda Kass's captivating, based-in-truth novel A Ritchie Boy is about assimilation, hope, and perseverance."
––Foreword Reviews

"Linda Kass's A Ritchie Boy is an American story of World War II Jewish immigrants and a wonderful account of families that came and helped others and the communities in which they lived. Its poignant telling makes me glad that there were some happy endings from such a horrific time in history."
––Linda White, Owner of Sundog Books

She Writes Press, 9781631527395, 224pp.
Publication Date: September 1, 2020
About the Author
Linda Kass began her career as a magazine writer and correspondent for regional and national publications. Her work has previously appeared in TIME, The Detroit Free Press, Columbus Monthly, and, more recently, Full Grown People, The MacGuffin, and Kenyon Review Online. She is the author of the historical World War II novel Tasa's Song (2016), which Publishers Weekly called "a memorable tale of unflinching courage in the face of war—and the power of love and beauty to flourish amid its horrors." She is the founder and owner of Gramercy Books, an independent bookstore in central Ohio. Learn more at www.lindakass.com.