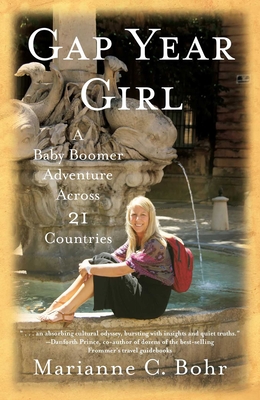 Gap Year Girl
A Baby Boomer Adventure Across 21 Countries
Paperback

* Individual store prices may vary.
Description
In the 1960s and '70s, thousands of baby boomers strapped packs to their backs and flocked to Europe, wandering the continent on missions of self-discovery. Many of these boomers still dream of "going back"--of once again cutting themselves free and revisiting the places they encountered in their youth, recapturing what was, and creating fresh memories along the way. Marianne Bohr and her husband, Joe, did just that. In Gap Year Girl, Bohr describes what it's like to kiss your job good-bye, sell your worldly possessions, pack your bags, and take off on a quest for adventure. Page by page, she engagingly recounts the experiences, epiphanies, highs, lows, struggles, surprises, and lessons learned as she and Joe journey as independent travelers on a budget--through medieval villages and bustling European cities, unimaginable culinary pleasures, and the entertaining (and sometimes infuriating) characters encountered along the way. Touching on universal themes of escape, adventure, freedom, discovery, and life reimagined, Gap Year Girl is an exciting account of a couple's experiences on an unconventional, past the-blush-of-youth journey.
She Writes Press, 9781631528200, 372pp.
Publication Date: September 1, 2015
1. If you were able to take a Gap Year, what would you do? Where would you go? With whom would you go or would you go alone?
2. What barriers – financial, emotional, logistical, and other – would you have to overcome in order to take a year off?
3. Discuss what specific steps you could take to minimize homesickness while away.
4. Which of the destinations the author visited intrigued you most and why? Which least interested you and why?
5. Have you ever visited any of the places in the book and if so, were your experiences similar or different from those of the author?
6. Discuss the pros and cons of taking an adult Gap Year/Senior Year Abroad. Are you considering taking a Gap Year in the future?
7. Did you like the author and her husband? Why or why not? Do they seem like people you'd like to spend time with?
8. If you spent a year away, how would you record your experiences? Journals, podcasts, blogs, online picture albums? How often do you think you would communicate with loved ones at home?
9. While thinking back about the author's year away, is there anything you would do differently if you were in her shoes?
10. Discuss the role adventure plays in your life. Do you actively search out adventure or try to avoid it? Would you like to have less/more adventure in your life?
11. What is most important to you when you travel? Meeting people? Learning about the culture? Visiting museums? Exploring the countryside? Eating the local food? Relaxing?
12. Are there differences between travel and vacation? If so, what are they?