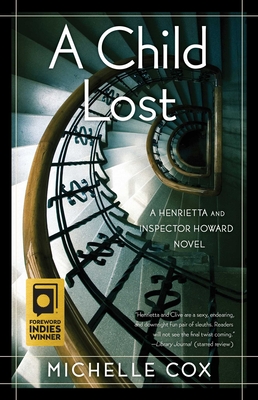 A Child Lost
A Henrietta and Inspector Howard Novel
Paperback

* Individual store prices may vary.
Description
"Downton Abbey meets Miss Fisher's Murder Mysteries " "A Child Lost is undoubtedly a novel that should not be missed--the story is genius, flawlessly written, and wildly entertaining A thrilling five stars " -- The Red Headed Book Lover "Once again, Cox delivers the passion and intrigue of Henrietta and Clive with a story that leaps right off the page. A Child Lost is a true thrill . . . " -- Paperback Paris "The characters' depth and complexity is beautifully written...this is a truly enjoyable and addicting series." -- Nurse Bookie A spiritualist, an insane asylum, a lost little girl . . . When Clive, anxious to distract a depressed Henrietta, begs Sergeant Frank Davis for a case, he is assigned to investigating a seemingly boring affair: a spiritualist woman operating in an abandoned schoolhouse on the edge of town who is suspected of robbing people of their valuables. What begins as an open and shut case becomes more complicated, however, when Henrietta--much to Clive's dismay--begins to believe the spiritualist's strange ramblings. Meanwhile, Elsie begs Clive and Henrietta to help her and the object of her budding love, Gunther, locate the whereabouts of one Liesel Klinkhammer, the German woman Gunther has traveled to America to find and the mother of the little girl, Anna, whom he has brought along with him. The search leads them to Dunning Asylum, where they discover some terrible truths about Liesel. When the child, Anna, is herself mistakenly admitted to the asylum after an epileptic fit, Clive and Henrietta return to Dunning to retrieve her. This time, however, Henrietta begins to suspect that something darker may be happening. When Clive doesn't believe her, she decides to take matters into her own hands . . . with horrifying results.
Praise For A Child Lost: A Henrietta and Inspector Howard Novel…
Praise for A Child Lost:



"Once again, Cox delivers the passion and intrigue of Henrietta and Clive with a story that leaps right off the page. A Child Lost is a true thrill . . ."

—Paperback Paris



"...vivid descriptive prose and historical accuracy."

—Publishers Weekly



Praise for the Henrietta and Inspector Howard series:



Praise for A Veil Removed:



2019 Next Generation Indie Book Awards: Finalist in Romance



2019 Next Generation Indie Book Awards: Finalist in Series





"Entertaining . . . composed of large dollops of romance and a soupçon of mystery, this confection will appeal!"


—Publishers Weekly





Praise for A Girl Like You:





"Michelle Cox masterfully recreates 1930s Chicago, bringing to life its diverse neighborhoods and eclectic residents, as well as its seedy side. Henrietta and Inspector Howard are the best pair of sleuths I've come across in ages—Cox makes us care not just about the case, but about her characters. A fantastic start to what is sure to be a long-running series."


—Tasha Alexander, New York Times best-selling author of The Adventuress





"Fans of spunky, historical heroines will love Henrietta Von Harmon."


—Booklist starred review





"Flavored with 1930s slang and fashion, this first volume in what one hopes will be a long series is absorbing. Henrietta and Clive are a sexy, endearing, and downright fun pair of sleuths. Readers will not see the final twist coming."


—Library Journal starred review





Praise for A Ring of Truth:





"An engaging and effective romp rich with historical details."


—Kirkus Reviews





"There's a lot to love about the bloodhound couple at the center of this cozy mystery."


—Foreword Reviews





"Set in the 1930s, this romantic mystery combines the teetering elegance of Downton Abbey and the staid traditions of Pride and Prejudice with a bit of spunk and determination that suggest Jacqueline Winspear's Maisie Dobbs."


—Booklist





"The second book of this mystery series is laced with fiery romance so delicious every reader will struggle to put it down. If you devoured Pride and Prejudice, this love story will get your heart beating just as fast."


—Redbook, "20 Books By Women You Must Read This Spring"





"Henrietta and Inspector Howard make a charming odd couple in A Ring of Truth, mixing mystery and romance in a fizzy 1930s cocktail."


—Hallie Ephron, New York Times bestselling author of Night Night, Sleep Tight





Praise for A Promise Given:





"Cox's eye for historical detail remains sharp. . . . A pleasant, escapist diversion."


—Kirkus Reviews





"Series fans will cheer the beginning of Clive and Henrietta's private investigation business in an entry with welcome echoes of Pride and Prejudice."


—Publishers Weekly





"Enjoyable, escapist read with some truths to savor."


—Historical Novel Society





"Fans of Henrietta and Inspector Howard will delight in Michelle Cox's latest novel. Romantic and atmospheric, A Promise Given offers an intriguing glimpse in 1930's Chicago, by weaving in authentic period details and exploring the social tensions of the day. The unlikely pairing of the Howards—two characters from very different worlds—provides a tender love story."


—Susanna Calkins, award-winning author of the Lucy Campion Historical Mysteries


She Writes Press, 9781631528361, 408pp.
Publication Date: April 28, 2020
1. Discuss the significance of the title. What specific themes are accordingly emphasized throughout the novel? Who are the lost children?
2. Do the characters seem believable to you? Who and which of their predicaments do you relate to the most?
3. Did any parts of this book make you uncomfortable? Why?
4. Do you think that Clive was justified in trying to limit Henrietta's activity?
5. Do you think that Clive was justified in employing Fritz to have essentially been a spy of Henrietta from the very beginning?
6. Do you think Henrietta was foolish to explore Dunning on her own?
7. Is Gunther a believable character?
8. Do you think Rose really loves Stanley, or is she using him? Is her storyline too dark?
9. Did you guess who the killer was before the end?
10. Do you think the depiction of Dunning Asylum was too dark, or not dark enough? Was it realistic?
11. What do you think of Madame Pavlovsky? Is she believable? Do you think she is a fraud?
12. Did any of the storylines change your opinion of this time period?
13. If you were to write fan fiction about this book, what kind of story would you want to tell?
14. If you were casting this as a movie or a mini-series, who would you select for the prime roles?
15. What do you predict to be next for Clive and Henrietta?