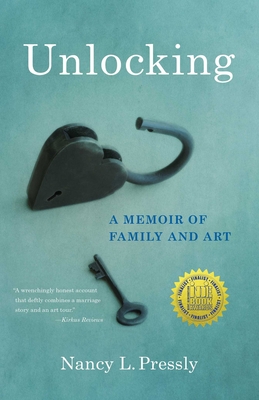 Unlocking
A Memoir of Family and Art
Paperback

* Individual store prices may vary.
Description
While recovering from a near fatal illness, Nancy Pressly discovers a treasure trove of family material stored in her attic. Haunted by images of her grandparents and her parents in their youth, she sets out to create a family narrative before it is lost forever. It takes several more years before she summons the courage to reconstitute a path back to her own past, slowly pulling back the veil of amnesia that has, until now, all but obliterated her memory of her childhood. In this sensitive and forgiving meditation on the meaning of family, Pressly unravels family dynamics and life in a small rural town in the 1950s that so profoundly affected her--then moves forward in time, through to her adulthood. With an eye attuned to visual detail, she relates how she came into her own as a graduate student in the tumultuous sixties in New York; examines how she assumed the role of caretaker for her family as she negotiated with courage and resilience the many health setbacks, including her own battle with pancreatic cancer, that she and her husband encountered; and evokes her interior struggle as a mother as she slowly traverses the barriers of expectations, self-doubt, and evolving norms in the 1980s to embrace a remarkable life as a scholar, champion of contemporary art, and nationally recognized art museum strategic planning consultant. Full of candor and art-inspired insight, Unlocking leaves the reader with a deep appreciation of the power of art and empathy and the value of trying to understand one's life journey.
She Writes Press, 9781631528620, 224pp.
Publication Date: May 5, 2020