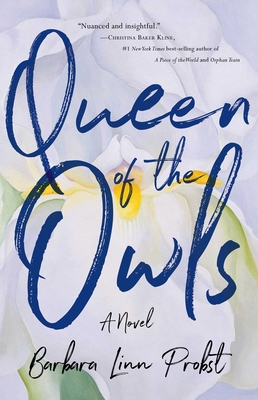 Queen of the Owls (Paperback)
She Writes Press, 9781631528903, 330pp.
Publication Date: April 7, 2020
* Individual store prices may vary.
Description
A chance meeting with a charismatic photographer will forever change Elizabeth's life. Until she met Richard, Elizabeth's relationship with Georgia O'Keeffe and her little-known Hawaii paintings was purely academic. Now it's personal. Richard tells Elizabeth that the only way she can truly understand O'Keeffe isn't with her mind--it's by getting into O'Keeffe's skin and reenacting her famous nude photos. In the intimacy of Richard's studio, Elizabeth experiences a new, intoxicating abandon and fullness. It never occurs to her that the photographs might be made public, especially without her consent. Desperate to avoid exposure--she's a rising star in the academic world and the mother of young children--Elizabeth demands that Richard dismantle the exhibit. But he refuses. The pictures are his art. His property, not hers. As word of the photos spreads, Elizabeth unwittingly becomes a feminist heroine to her students, who misunderstand her motives in posing. To the university, however, her actions are a public scandal. To her husband, they're a public humiliation. Yet Richard has reawakened an awareness that's haunted Elizabeth since she was a child--the truth that cerebral knowledge will never be enough. Now she must face the question: How much is she willing to risk to be truly seen and known?
About the Author
Barbara Linn Probst lives on an historic dirt road in New York's Hudson Valley. Her novels (Queen of the Owls, April 2020, and The Sound of One Hand, forthcoming in April 2021) tell of the search for authenticity, wholeness, and connection. In both novels, art helps the protagonist to become more fully herself. Barbara is also the author of the ground-breaking book on nurturing out-of-the-box children, When the Labels Don't Fit. She holds a PhD in clinical social work and is a frequent guest essayist on major online sites for fiction writers. Please see https://www.barbaralinnprobst.com/ to learn more.

Praise For Queen of the Owls…
"A nuanced, insightful, culturally relevant investigation of one woman's personal and artistic awakening, Queen of the Owls limns the distance between artist and muse, creator and critic, concealment and exposure."


—Christina Baker Kline, #1 New York Times best-selling author of A Piece of the World and Orphan Train




"This is a stunner about the true cost of creativity, and about what it means to be really seen. Gorgeously written and so, so smart (and how can you resist any novel that has Georgia O'Keeffe in it?), Probst's novel is a work of art in itself."


—Caroline Leavitt, best-selling author of Pictures of You, Is This Tomorrow and Cruel Beautiful World


"An entertaining, psychologically rich story of a sometimes giddy, sometimes painful awakening."


—Kirkus Reviews




"Queen of the Owls is a powerful novel about a woman's relation to her body, diving into contemporary controversies about privacy and consent. A 'must-read' for fans of Georgia O'Keeffe and any woman who struggles to find her true self hidden under the roles of sister, mother, wife, and colleague."


—Barbara Claypole White, best-selling author of The Perfect Son and The Promise Between Us




"Probst's well-written and engaging debut asks a question every woman can relate to: what would you risk to be truly seen and understood? The lush descriptions of O'Keeffe's work and life enhance the story, and help frame the enduring feminist issues at its center."


—Sonja Yoerg, best-selling author of True Places




"A gifted storyteller, Barbara Linn Probst writes with precision, empathy, intelligence, and a deep understanding of the psychology of a woman's search for self."


—Sandra Scofield, author of The Last Draft and Swim: Stories of the Sixties




"Barbara Linn Probst captures the art of being a woman beautifully. Queen of the Owls is a powerful and liberating novel of self-discovery using Georgia O'Keeffe's life, art, and relationships as a guide."


—Ann Garvin, best-selling author of I Like You Just Fine When You're Not Around