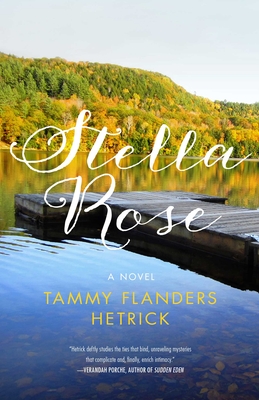 Stella Rose (Paperback)
She Writes Press, 9781631529214, 352pp.
Publication Date: April 21, 2015
* Individual store prices may vary.
Description
Upon Stella Rose's death, her best friend, Abby, moves to rural Vermont to take care of her sixteen-year-old daughter, Olivia. But Abby struggles to connect with Olivia and she soon finds guardianship of a headstrong teenager daunting beyond her wildest misgivings. Despite her best efforts, and the help of friends old and new, she is unable to keep Olivia from self-destruction. As Abby's journey unfolds, she grapples with raising a grieving teenager, realizes she didn't know Stella as well as she thought, and discovers just how far she will go to save the most precious thing in her life.
This is a novel about friendship among women. Is this also a novel about being friends to ourselves? If so, how?generic viagra price canada
What role does Stella's garden play in the novel? What about The Rose Whisperer?generic viagra price canada
The dock by the lake is the setting for some important scenes. Why does the dock become the cover art and not a garden picture or an image of roses, which are also important to the story?generic viagra price canada
How are men and male relationships portrayed in this novel?generic viagra price canada
What does this novel say about mothers and motherhood?generic viagra price canada
The author has said that best friends "say yes," that they step up in times of need. Do you agree? Would you have said yes to Stella Rose?generic viagra price canada
What role do the letters play in this novel? How would the novel be different without them?generic viagra price canada
What is the importance of names to the main characters?generic viagra price canada
Abby is surprised that Stella Rose has secrets. Were you? Do you think most people have secrets? Olivia has secrets as well but hers seem less surprising. Why?generic viagra price canada
Different kinds of love are depicted in this story. Is one more powerful than another? What does love make people do, or not do?generic viagra price canada
Part of this novel is about physical violence and gun violence. What do the characters learn about themselves as a result of these crises?generic viagra price canada
Abby overcomes several obstacles personally and professionally in the year in which she becomes a mother. Do you think she will continue to challenge herself? What do you think the future holds for her? Will she always be one of Olivia's mothers?generic viagra price canada
Could Abby have become her whole self without the passing of Stella Rose, or without late-in-the-novel conversation with her own mother?generic viagra price canada
What did you come away with, after reading this novel?generic viagra price canada