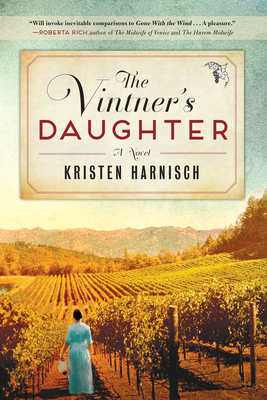 Vintner's Daughter
Paperback

* Individual store prices may vary.
Other Editions of This Title:
Digital Audiobook (10/31/2014)
MP3 CD (11/1/2014)
Compact Disc (11/1/2014)
Compact Disc (11/1/2014)
Description
Loire Valley, 1895. When seventeen-year-old Sara Thibault's father is killed in a mudslide, her mother sells their vineyard to a rival family whose eldest son marries Sara's sister, Lydia. But a violent tragedy compels Sara and her sister to flee to New York, forcing Sara to put aside her dream to follow in her father's footsteps as a master winemaker. Meanwhile, Philippe Lemieux has arrived in California with the ambition of owning the largest vineyard in Napa by 1900. When he receives word of his brother's death in France, he resolves to bring the killer to justice. Sara has travelled to California in hopes of making her own way in the winemaking world. When she encounters Philippe in a Napa vineyard, they are instantly drawn to one another, but Sara knows he is the one man who could return her family's vineyard to her, or send her straight to the guillotine. This riveting tale of betrayal, retribution, love, and redemption, Kristen Harnisch's debut novel immerses readers in the rich vineyard culture of both the Old and New Worlds, the burgeoning cities of late nineteenth-century America and a spirited heroine's fight to determine her destiny.
She Writes Press, 9781631529290, 368pp.
Publication Date: August 5, 2014
Sara's story is one of loyalty, loss, love and redemption. What particular character traits do you most admire in her? How do her life experiences from age seventeen to nineteen transform her from an "impetuous, headstrong girl" to a "mature woman"?
How does the author use the various settings—Sara's family vineyard in Vouvray, the convent, the slums of Manhattan's Lower East Side, and ultimately the rolling hills and sprawling vineyards of Napa—to accentuate Sara's emotional journey?
Sara and Lydia are like "two sides of a coin, one minted for pageantry, the other for practicality." As the story progresses, what do the sisters learn from each other?
Is Marguerite Thibault a failure as a mother? If so, what do you think motivates her choices?
Consider Sara's quest to secure her place in the winemaking world, and the changing expectations for women in the late 1800s. As a man, does Philippe face changing expectations as well?
Bastien and Philippe's personalities differ dramatically, even though they are brothers, and were raised by the same parents. Where does their difference in character stem from?
Objects play meaningful roles in this story. What values or sentiments are attached to Sara's claret-colored shawl, Papa's boots, Sara's wooden cross and Maman's Bible, for example?
Which secondary characters (Jacques, Bastien, Papa, Maman, Marie, Luc, Reverend Mother, the nuns, Aurora, the Chinese, Lamont, Linnette, etc.) influence Sara or Philippe the most? Why?
If you could sit down and chat with one of the characters over drinks, whom would you choose?
Which scene(s) from the novel do you find most memorable?
Now that you've finished reading The Vintner's Daughter, what are your expectations for its sequel?