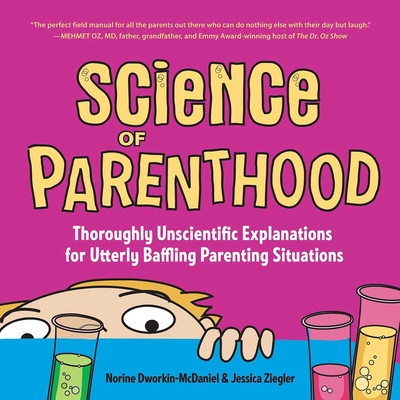 Science of Parenthood (Paperback)
Thoroughly Unscientific Explanations for Utterly Baffling Parenting Situations
She Writes Press, 9781631529474, 248pp.
Publication Date: November 17, 2015
* Individual store prices may vary.
Description
Based on Norine Dworkin-McDaniel and Jessica Ziegler's popular illustrated humor blog, Science of Parenthood: Thoroughly Unscientific Explanations for Utterly Baffling Parenting Situations takes the duo's mix of high-brow science and low-brow humor to a whole new level. Using their trademark brand of quirky, witty humor, and bolstered by their signature cartoons, Dworkin-McDaniel and Ziegler dig deep into the core sciences--biology, chemistry, physics and mathematics--to help moms and dads everywhere solve for "y." As in, "Y" is my child doing that . . . that . . . THING? And please, dear lord, is there a way to make them stop ? Anyone who's ever wondered why the kid who plays Minecraft for hours can't sit still for ten damn minutes to finish a math worksheet; who's marveled at how their toddler always picks the most inopportune moment to poop; or who's despaired of ever showering, sleeping, or finding a moment's peace again will find this book a hilarious, enlightening, and relatable read.