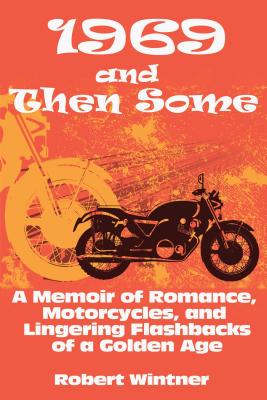 1969 and Then Some (Hardcover)
A Memoir of Romance, Motorcycles, and Lingering Flashbacks of a Golden Age
Yucca, 9781631580192, 256pp.
Publication Date: October 14, 2014
* Individual store prices may vary.
Description
The year when everything needed to be experienced and tried, when innocence was tempted, played, and lost.

1969 was that pivotal year for the baby boomers. Young and innocent, they were given the ultimate freedoms and were faced with growing up.

This touching, hilarious memoir is the true story of a late sixties grand tour of Europe—a life-defining parable, for those who remember and for those who can't. Never before and not since have a handful of seasons so exquisitely defined the difference between right and wrong. With the gift of youth they saw, sensed, and savored the laughably clear distinction between profit motive and greed, between truth and propaganda, between national interest and defense contractors, between a lovely cloud of smoke and the smoke of napalm, and between the phantoms of security and the dangers of complacency and atrophy.

Stoned to the gills and then some, these adventurers saw and felt and knew things that no generation before did. Some fully engaged in the counterculture while others merely observed, sticking a left foot in, pulling a left foot out, but not quite jumping to the full hokeypokey.

It was an incredible time of self-discovery, of love, and of finding out what you were made of.
About the Author
Robert Wintner has written twelve well-reviewed novels, including In a Sweet Magnolia Time, which was nominated for both a Pulitzer Prize and a PEN/Faulkner Award. He is an avid snorkeler, diver, and marine photographer, and is the founder of Snorkel Bob's Hawaii. He resides with his wife in Hawaii.
Praise For 1969 and Then Some: A Memoir of Romance, Motorcycles, and Lingering Flashbacks of a Golden Age…
"Robert Wintner takes us on his journey first in the American Midwest as a college student, then on a sex and drugs, On the Road–style motorcycle trip across southern England, France, Spain, Italy, Israel, the Red Sea, Germany, and finally the Netherlands. . . . California, motorcycles, and women round out the life adventure. Facing old age and the inevitable progressing failures of the body, Wintner reflects on friends and experiences. In the end he realizes the only way forward is through acceptance of another motorcycle journey." —Marnie Gaede, president of the Sea Shepherd Conservation Society US and the Fund for Wild Nature

"This is a true story of unfettered freedom and adventure, speed, sex, fun and drugs. . . . It's a fly-by-the-seat-of-your pants journey, filled with horny humor and ribald frankness. . . . You'll enjoy his lust-for-life exploits, either breathing a sigh of relief that you can do so vicariously, or wishing you'd been there, up close and personal with him, taking risks, living on the edge, thumbing your nose at the jaded generation that came before." —Ceci LaDuca, Columbia County Observer

"This touching, humorous memoir is the true story of a late '60s grand tour of Europe—a life-defining parable… an incredible time of self-discovery, of love, and of finding oneself." —JointForcesJournal.com

"Robert Wintner takes us on his journey first in the American Midwest as a college student, then on a sex and drugs, On the Road–style motorcycle trip across southern England, France, Spain, Italy, Israel, the Red Sea, Germany, and finally the Netherlands. . . . California, motorcycles, and women round out the life adventure. Facing old age and the inevitable progressing failures of the body, Wintner reflects on friends and experiences. In the end he realizes the only way forward is through acceptance of another motorcycle journey." —Marnie Gaede, president of the Sea Shepherd Conservation Society US and the Fund for Wild Nature

"This is a true story of unfettered freedom and adventure, speed, sex, fun and drugs. . . . It's a fly-by-the-seat-of-your pants journey, filled with horny humor and ribald frankness. . . . You'll enjoy his lust-for-life exploits, either breathing a sigh of relief that you can do so vicariously, or wishing you'd been there, up close and personal with him, taking risks, living on the edge, thumbing your nose at the jaded generation that came before." —Ceci LaDuca, Columbia County Observer

"This touching, humorous memoir is the true story of a late '60s grand tour of Europe—a life-defining parable… an incredible time of self-discovery, of love, and of finding oneself." —JointForcesJournal.com
or
Not Currently Available for Direct Purchase