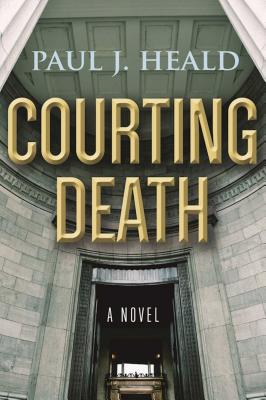 Courting Death (Paperback)
A Novel (Clarkeston Chronicles)
Yucca, 9781631581014, 328pp.
Publication Date: November 29, 2016
Other Editions of This Title:
MP3 CD (7/11/2017)
* Individual store prices may vary.
Description
From an internationally recognized law professor comes the third legal thriller in an exciting mystery series, the Clarkeston Chronicles.

Courting Death finds Melanie Wilkerson (from Cotton, book two of the Clarkeston Chronicles) and Arthur Hughes working uncomfortably together in the chambers of a famous federal judge. While Melanie neglects her duties as a law clerk to investigate the mysterious death of a young woman in the courthouse five years earlier, Arthur wades through the horrific habeas corpus appeals of two prisoners: an infamous serial killer and a pathetic child murder.

Melanie, a Georgia native who returns from law school in the Northeast, hoped to establish a legal reputation that will eclipse her beauty pageant queen past, which she is now desperate to disown. Arthur is a bright but naive Midwesterner who is rapidly seduced by the small Georgia college town of Clarkeston which, to his surprise, comes with an exotic and attractive landlady. The cohort of federal court clerks is completed by Phil Jenkins, a Stanford graduate from San Francisco who tries his best to balance the personalities of his volatile colleagues.

Living and working in bucolic Clarkeston comes with a price. In Courting Death, Arthur, Melanie, and Phil are confronted with the extremes of human mortality, both in and outside the legal system, in ways that they could never have expected or prepared for.

Skyhorse Publishing, as well as our Arcade, Yucca, and Good Books imprints, are proud to publish a broad range of books for readers interested in fiction—novels, novellas, political and medical thrillers, comedy, satire, historical fiction, romance, erotic and love stories, mystery, classic literature, folklore and mythology, literary classics including Shakespeare, Dumas, Wilde, Cather, and much more. While not every title we publish becomes a New York Times bestseller or a national bestseller, we are committed to books on subjects that are sometimes overlooked and to authors whose work might not otherwise find a home.
About the Author
Paul J. Heald teaches law at the University of Illinois. A graduate of the University of Chicago, he lectures worldwide and has taught at many universities including Oxford and Vanderbilt. Before joining the law faculty, he clerked in Montgomery, Alabama, for the Honorable Frank M. Johnson Jr. Heald sings baritone and lives in Champaign, Illinois, with his wife, Jill Crandall, a choir director.
Praise For Courting Death: A Novel (Clarkeston Chronicles)…
"Absorbing . . . Heald skillfully illuminates the vagaries of crime and punishment in this disquieting look inside the workings of the justice system." —Publishers Weekly

"A terrific read! Law professor Paul Heald once again shows his mastery of the legal mystery with characters as complex as any found in a Grisham novel. It's Southern justice served cold." —Mark Schweizer, author of The Liturgical Mysteries series

"Unique . . . As close to being a pure legal thriller as you are likely to find . . . A great deal of insight into the inner workings of these cases . . . A great choice for legal thriller fans as well as those who enjoy a good mystery." —Night Owl Reviews

"Growing mystery, tangled personal lives, a wonderful evocation of time and place, and an expert insider's view of the criminal justice system would be enough to make Courting Death a great read. . . . A triumphant, life-affirming accomplishment. Paul Heald just keeps getting better and better." —Frank Chadwick, author of How Dark the World Becomes

"As George Eliot complained long ago, too few novels even try to capture the experience of work or the romance of vocation. Fewer succeed. Novels about lawyers, in particular, too often use the law itself merely as an ornament or plot device. Courting Death, by contrast, is a real novel of vocation. Heald wonderfully evokes the intellectual excitement of law as a profession." —Eric Johnson, Former Chief Assistant Attorney General of Alaska and Assistant Solicitor General in New York

"Absorbing . . . Heald skillfully illuminates the vagaries of crime and punishment in this disquieting look inside the workings of the justice system." —Publishers Weekly

"A terrific read! Law professor Paul Heald once again shows his mastery of the legal mystery with characters as complex as any found in a Grisham novel. It's Southern justice served cold." —Mark Schweizer, author of The Liturgical Mysteries series

"Unique . . . As close to being a pure legal thriller as you are likely to find . . . A great deal of insight into the inner workings of these cases . . . A great choice for legal thriller fans as well as those who enjoy a good mystery." —Night Owl Reviews

"Growing mystery, tangled personal lives, a wonderful evocation of time and place, and an expert insider's view of the criminal justice system would be enough to make Courting Death a great read. . . . A triumphant, life-affirming accomplishment. Paul Heald just keeps getting better and better." —Frank Chadwick, author of How Dark the World Becomes

"As George Eliot complained long ago, too few novels even try to capture the experience of work or the romance of vocation. Fewer succeed. Novels about lawyers, in particular, too often use the law itself merely as an ornament or plot device. Courting Death, by contrast, is a real novel of vocation. Heald wonderfully evokes the intellectual excitement of law as a profession." —Eric Johnson, Former Chief Assistant Attorney General of Alaska and Assistant Solicitor General in New York
or
Not Currently Available for Direct Purchase