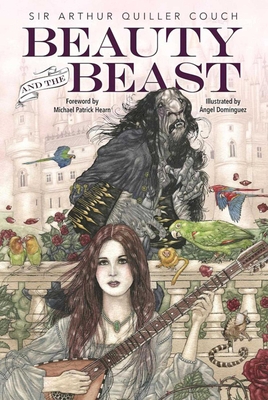 Beauty and the Beast (Hardcover)
Racehorse for Young Readers, 9781631581151, 96pp.
Publication Date: February 7, 2017
* Individual store prices may vary.
Description
Originally written in 1740, Beauty and the Beast has been reimagined into countless theatrical, print, and film adaptations over the course of two and a half centuries. Its popularity has only grown since its initial publication. The basis for the 2017 film adaptation, this classic fairytale has proven to still appeal to modern-day story-lovers and readers alike.

The narrative follows young Beauty, who is forced to live with a beast in an enchanted castle after her father attempts to pick the Beast's most precious rose and pleads for his life in exchange for one his daughters. After being spoiled by servants and lavish gifts from Beast, Beauty eventually grows homesick. She negotiates a deal with Beast to visit home, but only if she agrees to return in exactly one week. Once she arrives at her father's home, she considers staying, but soon after looking in her enchanted mirror and seeing Beast heart-broken and half alive in her absence, she realizes that her loyalty and love lie elsewhere—back at the castle.

Featuring brand-new, full-color illustrations throughout by renowned artist Ángel Domínguez as well as a foreword by literary scholar Michael Patrick Hearn, this classic tale of how love can soften even the most monstrous of beasts will come to life.
About the Author
Sir Arthur Quiller-Couch was a Cornish writer born in the mid-eighteenth century who published under the penname Q. Throughout his lifetime, he published many works under this pseudonym, most notably "The Oxford Book of English Verse" 12501900. He died in 1940 at the age of eighty.

Angel Dominguez was born in the Basque Country in 1953. He is an award-winning illustrator of more than twenty books and is known throughout Spain. His lavish work has already been compared to some of the greatest illustrators of the past century, including one of his inspirations, Arthur Rackham. Angel s art has graced postage stamps, magazine illustrations, stationary, postcards, earthenware, and more. Notable among his work is The King s Gift, which he illustrated specifically for Queen Rania of Jordan in 2000. The art that he created for "The Jungle Book" won the CCEI Award in Spain for best illustrated book. He lives with his wife in Laredo, Spain.

Michael Patrick Hearn is a literary scholar and one of the leading experts on children s literature in America. His works include "The Annotated Wizard of Oz, The Annotated Lewis Carol, The Annotated Huckleberry Finn, The Porcelain Cat, " and "From the Silver Age to Stalin: Russian Children s Book Illustration." Additionally, he has written for the New York Times, the Nation, and many other publications. Hearn resides in New York City.

"