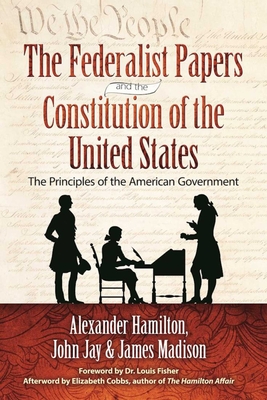 The Federalist Papers and the Constitution of the United States
The Principles of American Government
Paperback

* Individual store prices may vary.
Description
Widely considered to be among the most important historical collections of all time, The Federalist Papers were intended to persuade New York at-large to accept the newly drafted Constitution in 1787. Authored in parts by Hamilton, Madison, and Jay, the documents have been referred to and heavily cited countless times in all aspects of American government and politics. Their influence is undeniable, as they remain prevalent in our political climate today. This collection remains a vital benchmark in American political philosophy.

Signed by the members of the Constitutional Convention in Philadelphia on September 17, 1787, the US Constitution is a landmark legal document that comprises the primary law of the federal government and outlines its three chief branches. The Federalist Papers were a rebuttal to the general public of New York's initial dissuaded response to the idea of the US Constitution.

This collection includes both the full text of The Federalist Papers as well as the entire text of the Constitution, so that readers may compare both documents and reference one another at their leisure. In addition to these documents, the book contains a foreword by constitutional scholar Dr. Louis Fisher.

With its rich history, The Federalist Papers and the Constitution of the United States will educate you on the groundwork that shaped the greatest country in the world.
Racehorse, 9781631581373, 552pp.
Publication Date: November 15, 2016
About the Author
Elizabeth Cobbs is a historian, New York Times bestselling novelist, and documentary filmmaker. She is the author of four books on American history and a winner of the Allan Nevins Prize. Her novel Broken Promises: A Novel of the Civil War won the San Diego Book Award.
or
Not Currently Available for Direct Purchase