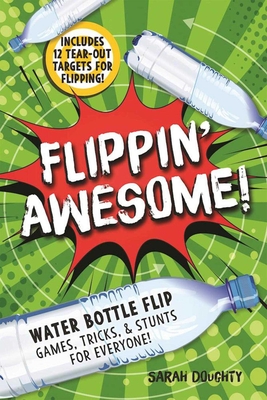 Flippin' Awesome (Paperback)
Water Bottle Flip Games, Tricks and Stunts for Everyone!
Skyhorse, 9781631581694, 64pp.
Publication Date: November 29, 2016
* Individual store prices may vary.
Description
Flip your way to fame and glory!

Join the worldwide craze with Flippin' Awesome, the complete player's guide to the ultimate new sport of water bottle flipping. Flippin' Awesome features twelve incredible target games for hours of intense head-to-head competition and fun. Flip your way to a strike-out with the Full Count Flip, make like a human spatula with Flippin' Burgers, or toss your way to sweet, sweet victory playing Glaze of Glory. Master new tricks and techniques like "capping" and the "sailor flip" to bring your skills to a whole new level. Inspirational quotes from your favorite athletes will keep you motivated as you sweat it out learning killer maneuvers and racking up the highest scores. Ready to become a legend? Grab your tricked-out bottles, turn up your victory playlist, and let the games begin!

Winning techniques for landing each and every flip
12 ready-to-play, fold-out target games
Tear-away score cards to track your stats and your wins

TAGS: Bottle flipping, water bottle flipping, bottle flippin, bottle flippin', flipping awesome, water bottle tricks, water bottle games
About the Author
Sarah Doughty is a writer and game enthusiast with some flippin' cool tricks up her sleeve. Her favorite water bottle stunt is the Skinny Shelf, and her favorite game is the tasty Glaze of Glory. She lives in the Boston area on a small farm with some pretty flippin' awesome goats.
Praise For Flippin' Awesome: Water Bottle Flip Games, Tricks and Stunts for Everyone!…
"Bottle flipping—the compulsion promoted through online videos to toss a partly filled plastic bottle and try to get it to land upright . . . has captivated children across the country." —New York Times

"It's not hard these days to find kids flipping bottles: at bus stops, at middle-school lunchroom tables, inside Little League dugouts, even on national television. . . . The act of flipping a water bottle through the air to achieve a perfect, upright landing on the table in front of you is part art form, part science." —Boston Globe

"If you've spent any time with middle schoolers in the past three months, you'll already know 'bottle flipping' is officially a thing." —Good Housekeeping

"This isn't a mindless game but just the opposite: a fully engaged application of human ingenuity with a decisive reward." —Jeffrey Tucker, Foundation for Economic Education

"[Bottle flipping] aided by YouTube videos and other social media, the trend has invaded homes and schools across the country and now, apparently, the world. . . . The games and challenges are endless." —Today

"Bottle flipping—the compulsion promoted through online videos to toss a partly filled plastic bottle and try to get it to land upright . . . has captivated children across the country." —New York Times

"It's not hard these days to find kids flipping bottles: at bus stops, at middle-school lunchroom tables, inside Little League dugouts, even on national television. . . . The act of flipping a water bottle through the air to achieve a perfect, upright landing on the table in front of you is part art form, part science." —Boston Globe

"If you've spent any time with middle schoolers in the past three months, you'll already know 'bottle flipping' is officially a thing." —Good Housekeeping

"This isn't a mindless game but just the opposite: a fully engaged application of human ingenuity with a decisive reward." —Jeffrey Tucker, Foundation for Economic Education

"[Bottle flipping] aided by YouTube videos and other social media, the trend has invaded homes and schools across the country and now, apparently, the world. . . . The games and challenges are endless." —Today