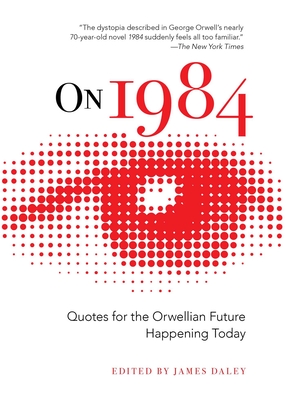 On 1984 (Hardcover)
Quotes for the Orwellian Future Happening Today
Racehorse, 9781631582219, 144pp.
Publication Date: May 16, 2017
* Individual store prices may vary.
Description
2017. America is drastically divided and, some would argue, is starting to resemble George Orwell's portrayal of a totalitarian state in his iconic novel, 1984. In the age of alternative facts, internal hostility, and President Donald Trump, a large portion of America is begging for a way to cope with the uncertainty looming over the country.

On 1984: Quotes for the Orwellian Future Happening Today is filled with hundreds of alarmingly relevant quotes by notable people of the past and present, including Martin Luther King, Jr., Abraham Lincoln, Che Guevara, Elizabeth Warren, Bernie Sanders, Donald Trump, and George Orwell himself. The quotes within the book are each separated by topic. The subjects addressed include fear, prejudice, power, corruption, alternative facts, resistance, and many other pertinent topics to the current state of the United States, and the world at large.

The book features classic memorable quotes sure to inspire and enlighten in these troubling times, such as: "In times of universal deceit, telling the truth is a revolutionary act." ?George Orwell
About the Author
James Daley is a writer, editor, and designer of various paper-based and digital things. Since finishing his MFA at the Vermont College of Fine Arts in 2004, he has been spending most of his time teaching writing to college students, creating websites about video games, and writing mystery novels about pensive young ne'erdowells. When he's not obsessively poring over pixels and pronouns, he can usually be found arguing with strangers on the Internet or seeking out adventure with his indomitable wife and venturesome daughters.
or
Not Currently Available for Direct Purchase