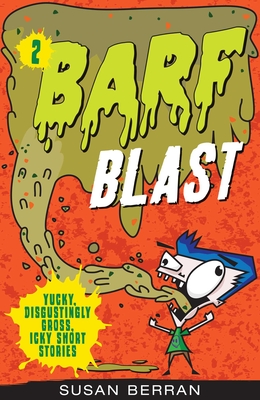 Barf Blast (Yucky, Disgustingly Gross, Icky Short St #2)
Paperback

* Individual store prices may vary.
Description
A fun, barf-filled action-packed, seriously gross book by the author of the '''Freaky''' series
 
So you know all of those really yucky disgusting and gross, icky things that we talked about in Book One? Well, guess what? There's more disturbingly gross stuff that your parents don't like talking about in Book Two! For example, if you "upchuck," will it land on your head? And where does your nose go when it runs? How did a "streaker" end up in the book?
 
Barf Blast is the perfect follow-up to Book One, and will entertain you with all kinds of disgusting stories
 
The Yucky, Disgustingly Gross, Icky Short Stories series is designed for fast laughs to kick-start even the toughest non-readers. Targeted to ages 7 to 11, these gross, absolutely hilarious tales will leave kids grimacing for more. There's definitely more than enough snot & vomit in this sordid series.
 
Racehorse for Young Readers, 9781631583353, 136pp.
Publication Date: April 23, 2019
About the Author
Susan Berran is a successful children's illustrator and author who loves encouraging kids to read and write. Her books are packed with plenty of fun, action and off-beat humour- the perfect formula to get kids laughing and reading. She is a passionate advocate for children's literacy and has a long association with various writer festivals and development programs. Her upbeat and interactive style makes her an extremely popular and in-demand author on the school book promotion circuit. Her Freaky series is on the NSW Premiers Reading Challenge list.
or
Not Currently Available for Direct Purchase