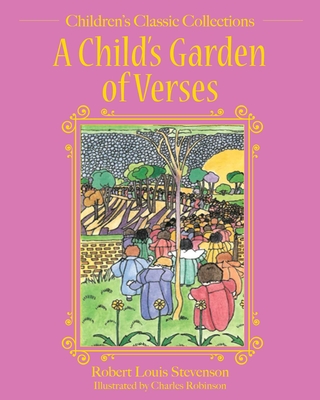 A Child's Garden of Verses (Children's Classic Collections) (Hardcover)
Racehorse for Young Readers, 9781631583643, 96pp.
Publication Date: July 28, 2020
Other Editions of This Title:
Paperback (1/2/2016)
Paperback (9/21/2017)
Paperback (4/4/2010)
Paperback (6/16/2016)
Paperback (7/23/2018)
Paperback (11/3/2011)
Paperback (4/6/2020)
Paperback (4/6/2020)
Paperback (9/14/2017)
Paperback (12/25/2019)
Paperback (9/11/2012)
Paperback (2/10/2016)
Paperback (4/6/2010)
Paperback (10/27/2017)
Hardcover (4/4/2010)
Paperback (11/30/2019)
Paperback (6/4/2009)
Paperback (10/10/2018)
Paperback (2/29/2020)
Paperback (12/4/2019)
* Individual store prices may vary.
Description
A handsome new edition of Robert Louis Stevenson's classic collection of children's poems
Racehorse for Young Readers' Children's Classic Collections is a new series that offers readers timeless compilations of children's literature. Handsomely packaged and affordable, this new series aims to revitalize these enchanting works and continue the tradition of sharing them with the next generation.
A Child's Garden of Verses
is one of the most famous children's collections of poetry ever published. It was written by Robert Louis Stevenson for children about the joys and sorrows of childhood, touching on themes like illness and solitude as well as make-believe games and play. This collection includes stories like:
"Foreign Children"
"The Lamplighter"
"The Land of Counterpane"
"Bed in Summer"
"My Shadow"
"The Swing"
And more!
Whether you're a collector or just want to share these incredible tales with the young readers in your life, this book will provide readers with countless hours of unforgettable stories and artwork.
About the Author
Robert Louis Balfour Stevenson (13 November 1850 – 3 December 1894) was a Scottish novelist, poet, essayist, musician and travel writer. His most famous works are Treasure Island, Kidnapped, Strange Case of Dr Jekyll and Mr Hyde, and A Child's Garden of Verses. Stevenson was a literary celebrity during his lifetime, and now ranks as the 26th most translated author in the world

Charles Robinson was a prolific book illustrator. The first full book he illustrated was Robert Louis Stevenson's A Child's Garden of Verses (1895) which includes over 100 pen and ink drawings. It was extremely popular, going through many reprints, and generated numerous commissions. He illustrated many fairy tales and children's books throughout his career, including Eugene Field's Lullaby Land (1897), W. E. Cule's Child Voices (1899), Friedrich de la Motte Fouqué's Sintram and His Companions (1900), Alice's Adventures in Wonderland (1907), Grimm's Fairy Tales (1910), Frances Hodgson Burnett's The Secret Garden (1911), and books written by Walter Copeland Jerrold and himself.