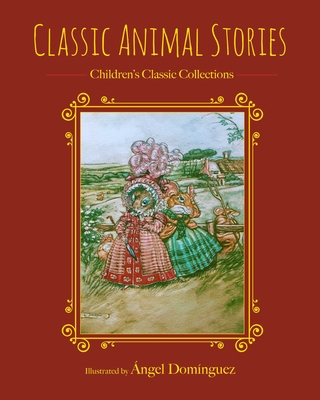 Classic Animal Stories (Children's Classic Collections) (Hardcover)
Racehorse for Young Readers, 9781631583650, 144pp.
Publication Date: July 6, 2021
* Individual store prices may vary.
Description
Racehorse for Young Readers' Children's Classic Collections is a new series that offers readers timeless compilations of children's literature. Handsomely packaged and affordable, this new series aims to revitalize these enchanting works and continue the tradition of sharing them with the next generation.
Written by the likes of Rudyard Kipling, the brothers Grimm, Aesop, Chaucer, among others,
Classic Animal Stories
is compilation of some of the greatest known children's stories, each of which follow the adventures of an animal character. Some of the stories include:  
"Rikki-Tikki-Tavi"
"The Dog and the Wolf"
"The Sparrows' Tug-of-War"
"Chanticleer and Pertelotte"
And more!

Featuring full-color illustrations by famed Spanish illustrator Ángel Domínguez, this unforgettable collect will enchant young readers and introduce them to classics they may have never read before.
About the Author
Ángel Domínguez was born in the Basque Country in 1953. He is an award-winning illustrator of more than twenty books and is known throughout Spain. His lavish work has already been compared to some of the greatest illustrators of the past century, including one of his inspirations, Arthur Rackham. Ángel's art has graced postage stamps, magazine illustrations, stationary, postcards, earthenware, and more. Notable among his work is "The King's Gift," which he illustrated specifically for Queen Rania of Jordan in 2000. The art in The Jungle Book won the CCEI Award in Spain for best illustrated book. He lives with his wife in Laredo, Spain.