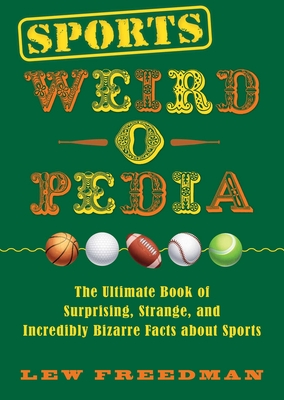 Sports Weird-o-Pedia
The Ultimate Book of Surprising, Strange, and Incredibly Bizarre Facts about Sports
Paperback

* Individual store prices may vary.
Description
By any standard of normal behavior, sports cannot escape the definition of weirdness.

Sports achievements have the capacity to inspire and excite watchers, whether through athletic brilliance or magnificent team performance, but there are times when our athletes and teams go wacko on us, and the most peculiar things break out with no warning to provide wide-eyed astonishment or laugh-out-loud responses.



Sammy Sosa of the Chicago Cubs landed on the disabled list due to a back injury caused by sneezing too hard.
Minnesota Vikings football stalwart Jim Marshall ran the wrong way with a recovered fumble.
Former NBA player Dennis Rodman spearheaded American diplomacy with North Korea.
The lyrics and music creators of "Take Me Out to The Ballgame" authored one of the most sung songs in American history without ever having seen a baseball game.
And more!

While those spontaneous combustions may result from someone rising from the weird side of the bed, they're often the most memorable.

Racehorse, 9781631583872, 216pp.

Publication Date: June 4, 2019
About the Author
Lew Freedman is the author of nearly sixty books on sports, including Clouds over the Goalpost, The Original Six, and A Summer to Remember, and is the winner of more than 250 journalism awards. A veteran sportswriter, Freedman was formerly a staff writer for the Chicago Tribune and Philadelphia Inquirer, as well as other papers, and lives in Columbus, Indiana.