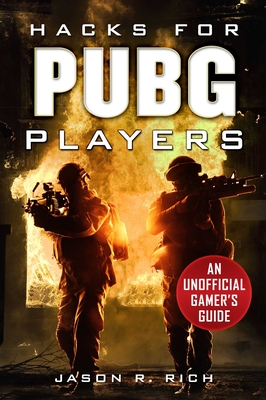 Hacks for PUBG Players (Hardcover)
An Unofficial Gamer's Guide
Racehorse, 9781631585173, 160pp.
Publication Date: June 11, 2019
* Individual store prices may vary.
Description
Using hundreds of full-color screenshots and easy-to-understand directions, PUBG Hacks is a "must read" for newbies as well as more experienced PUBG players looking to enhance their skills.
Before there was
Fortnite: Battle Royale
,
PUBG
was the multiplayer combat game that took the world by storm with its fast action, photorealistic graphics, and intense combat scenarios that pitted each gamer against up to 99 others in a real-time battle royale. Only one soldier can win each high intensity match. Survival depends on a gamer's speed, shooting accuracy, combat strategy, and ability to safely get around the island where each match takes place.
During each match, gamers are forced to battle against up to 99 other players, who are often unpredictable in terms of their actions and fighting techniques. This requires gamers to constantly tweak their strategies as new combat situations arise and different challenges present themselves around every turn.
To help gamers develop their PUBG gaming skills and specialized fighting techniques,
PUBG Hacks
introduces new gamers to PlayerUnknown's Battlegrounds, provides detailed directions on how to play like a pro on all compatible gaming platforms, and offers fighting, exploration, and survival strategies that can help lead a reader to victory!
This unofficial guide covers:
How to get started playing PUBG on any gaming platform.
Ways to customize a soldier with in-game purchases and items that get unlocked during gameplay by completing objectives.
How to use popular types of weapons offered within the game.
Proven combat strategies and survival tactics.
Ways to safely navigate around the island on foot and using vehicles.
How to use the island's terrain to a soldier's advantage.
Strategies for successfully launching surprise attacks and ambushes.
Techniques for outsmarting adversaries and surviving incoming attacks.
Creative ways to use weapons, ammo, and tools to a player's advantage.
About the Author
Jason R. Rich (www.JasonRich.com) is an avid gamer and the author of more than two dozen full-length computer and video game strategy guides, including the Fortnite Battle Royale Hacks series. He's also contributed thousands of game reviews and articles to national magazines and websites, and has worked as a consultant to some of the world's biggest computer and video game developers and publishers. Follow him on Twitter/Instagram (@JasonRich7).