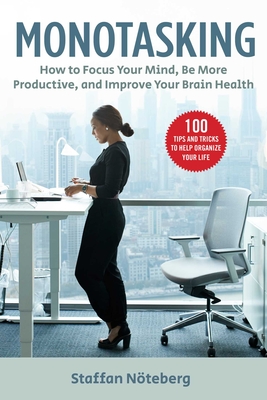 Monotasking
How to Focus Your Mind, Be More Productive, and Improve Your Brain Health
Paperback

* Individual store prices may vary.
Description
Tips and tricks to cut down your to-do list and avoid procrastination
Are you prone to delaying all those projects you need to complete? Is that checklist getting just a little too daunting? Don't get sucked into the spiral of procrastination! Start checking off that to-do list with
Monotasking
! In this simple, easy-to-follow book, author Staffan Nöteberg shares his effective and powerful monotasking method to help you strengthen your self-control and improve your focus on those daily tasks.
No more delaying the inevitable. Sure, you'd rather be reading that new book or watching the game, but those things need to get done! And you know you'll have a much better time if you don't have your to-do list looming over you! In just six chapters, you will be up and eagerly completing all those chores—even the ones that you hate! These chapters detail easy steps to improving your "get up and go" and clearing off that chore list. They include:
Cut to-do tasks
Focus on one thing
Never delay
Work step-by-step
Simplify collaboration
Recharge your creativity
With clear, step-by-step instructions and advice, you'll have that to-do list checked off in no time. Also, not only will this guide help you cut down on your to-do list, but the lessons you learn will help improve your focus, which leads to better brain health and a happier life. Procrastination will be a thing of the past! You'll be enjoying your free time (and your healthier brain) faster than you can say
Monotasking
!  
Praise For Monotasking: How to Focus Your Mind, Be More Productive, and Improve Your Brain Health…
"Essential to get things done and effectively move our company forward. The book is easy to read and provides a number of highly useful tools."
—Tomas Rahkonen Ph.D., CTO Flexenclosure

"Touches upon an important topic of modern neuroscience—that our brain is optimized for one thing at a time: monotasking. Read it and become more effective!"
—Lina Leufven, Agile Coach

"A charming, insightful book about how we manage our time and effort. As I read my review copy, I stopped all the way through. Why did I stop? I wanted to apply his suggestions immediately! Staffan has collected the most effective advice from old and new sources to combine them in a fresh, easy-to-read presentation style. His distillation of five axioms offers a powerful method, Monotasking, for getting more done and enjoying it more, as well, whether at work, at home, or as a volunteer." 
—Diana Larsen, co-author of Agile Retrospectives: Making Good Teams Great and Liftoff: Start and Sustain Successful Agile Teams, co-founder, Agile Fluency® Project
 
"A unique masterpiece when it comes to improving our understanding and practice of productivity. This book is jam-packed with playful explanations, tips and techniques to help get your work-life To-Do lists shipshape and have fun while getting things done. High-Ho!"
—Portia Tung, play researcher and founder of The School of Play, coauthor of The Dream Team Nightmare: Tool and Techniques to Boost Team Productivity

"Deals with one of the evils of our time—the constant interruptions, the short attention spans, and the frazzled feeling of being pulled in too many directions. Monotasking is the antidote to all of this. This book shows a better way of working and will help readers understand how to be more productive and effective. I have already put much of the advice in use and have seen wonderful results." 
—Sandy Mamoli, Agile Advisor at Nomad8 and coauthor of Creating Great Teams: How Self-Selection Lets People Excel

"In an entertaining way, Monotasking will fill you with ideas on how to make the most of your time, on and off work, ideas that you can use from day one."
—Tobias Anderberg, Senior Developer, IKEA
 
"One of those rare books where you after just a dozen pages want to put the book down and just try things out. Do that, but also pick up the book and read the rest. Every page is worth reading."
—Ola Ellnestam, CEO Agical and former secretary of the Agile Alliance board

"For anyone who (like me) wants to be efficient but sometimes struggles to stay focused. And you should also get an extra copy for anyone who proudly says that they are 'good at multitasking'" —Viktor Nordling, Software Engineer and Entrepreneur, Palantir Technologies

"I really like how the panorama cue syncs up naturally with meetings and breaks. It works really well in a team environment as well as when working solo. While the Pomodoro Technique never really stuck with me monotasking removes EVERYTHING not strictly needed and hence becomes simple enough even for me."
—Joakim Ohlrogge, Software Developer

 
Racehorse, 9781631585487, 192pp.
Publication Date: June 1, 2021
About the Author
Staffan Nöteberg is an enterprise agility coach with years of experience in improving personal productivity. He is also the author of Pomodoro Technique Illustrated (2009) and teaches seminars on monotasking to companies in North America, Europe, and East Asia.