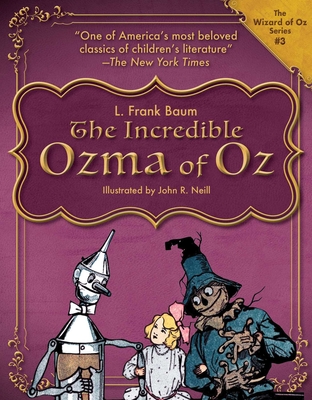 The Incredible Ozma of Oz (The Wizard of Oz Series) (Hardcover)
Racehorse for Young Readers, 9781631585777, 352pp.
Publication Date: October 6, 2020
Other Editions of This Title:
Paperback (6/21/2011)
Paperback (11/11/2017)
Paperback (1/3/2020)
Paperback (9/25/2019)
Paperback (9/11/2017)
Paperback (4/8/2020)
Paperback (5/21/2012)
Paperback (6/18/2018)
Paperback (3/28/2015)
Paperback (6/11/2019)
Paperback (3/7/2013)
Paperback (6/18/2018)
Paperback (9/28/2017)
Paperback (9/21/2017)
Paperback (12/4/2011)
Paperback (6/24/2018)
* Individual store prices may vary.
Description
"In the light of 21st-century problems . . . Baum's lessons seem especially relevant."—The New York Times

Originally published over 100 years ago, L. Frank Baum's beloved Wizard of Oz series continues to delight and enchant readers today. In the third book of the classic children's series, Dorothy makes her return to the fantastical land of Oz, reuniting with her dear friends the Tinman, Scarecrow, and Cowardly Lion from The Wonderful Wizard of Oz, and greeting new friends introduced in The Marvelous Land of Oz.

In Ozma of Oz, Dorothy is traveling aboard a boat with her Uncle Henry, when she is washed overboard in a storm along with a yellow chicken named Billina. When they come ashore and Billina speaks to Dorothy, the young girl realizes that they've definitely arrived in a "fairy country"—but it isn't Oz! After being chased by Wheelers, evil creatures with wheels for hands and feet, Dorothy and Billina meet Tik-Tok, a mechanical man who informs them that they are in the Land of Ev.

Tik-Tok then takes the two to the ruling leader of the land, a vain princess with detachable heads. When Dorothy refuses to give the spoiled royal her head for her collection, the princess throws the girl into her tower dungeon. Luckily, Princess Ozma and her Royal Court of Oz are on their way!

This handsome, affordable edition contains original full-color artwork by John R. Neill. Experience a classic in its truest form, and pick up this beautiful new edition of The Incredible Ozma of Oz.
 
About the Author
L. "Lyman" Frank Baum was an American author and writer of children's books. He was born in Chittenango, New York, in 1856. Baum started writing at an early age; throughout his prolific career, he penned over fifty novels, eighty short stories, and two hundred poems. In 1900, Baum wrote his most successful work, The Wonderful Wizard of Oz, which he shared the copyright for with illustrator W. W. Denslow. The book quickly became a bestseller, and has inspired dozens of popular theater and film adaptations ever since.

John R. Neill was an American illustrator for newspapers and children's books. He is primarily known for illustrating the Oz books by L. Frank Baum, beginning with the second book of the series, The Marvelous Land of Oz. He continued to illustrate the series after Baum's death and eventually became the designated "Oz historian," even writing three books in the series. His illustrations enhanced Baum's writing, bringing characters and scenery to life.