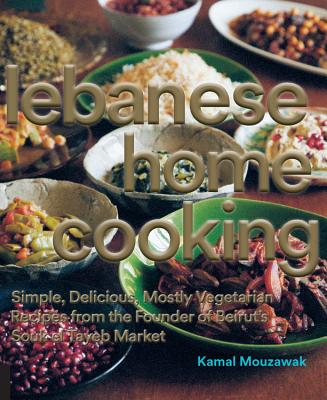 Lebanese Home Cooking (Hardcover)
Simple, Delicious, Mostly Vegetarian Recipes from the Founder of Beirut's Souk El Tayeb Market
Quarry Books, 9781631590375, 160pp.
Publication Date: September 15, 2015
* Individual store prices may vary.
Description
Make food not war.

Straight from the eastern shores of the Mediterranean, chef and creator of the first farmers' market in Beirut, Kamal Mouzawak brings you healthy and inspiring dishes, featuring classic Lebanese ingredients.
Lebanese Home Cookingis a mouthwatering cookbook that teaches traditional Lebanese home cooking with regional and religious variation. You won't find these authentic recipes in many Middle-Eastern restaurants! With over 50 gorgeous recipes including kebbeh, mehsheh, tabikh, mujadara, and mouaa'janat, you'll have amazing and exciting homecooked meals in no time.
"To me, the Souk is the epitome of what it means to 'have guts'. Despite bombings and unrest in their city, the market continues to not just function, but to flourish - celebrating culture, cuisine and agriculture. It's very existence is as an act of resistance against sectarian violence." - Rene Redzepi "Lebanese culture served on a plate." CNN
"If I was surprised, it was at what Kamal is doing at Souk el Tayeb, bringing cooks from different social, political and regional sectors." - Chef Anthony Bourdain
About the Author
Kamal Mouzawak is a writer and creator of the first farmers' market in Beirut, Souk el-Tayeb, which preserves food traditions and the culture of sustainable agriculture in Lebanon. Souk el-Tayeb's community minded projects are about a shared culture of food -- "make food not war"-- and finding common ground among people in conflict. In 2009 he opened Tawlet, which was recently named the 8th best restaurant in the world by The Monocle Restaurant Awards. In 2016, Mouzawak was awarded the Prince Claus Award in the Netherlands for his work as a food activist.
Praise For Lebanese Home Cooking: Simple, Delicious, Mostly Vegetarian Recipes from the Founder of Beirut's Souk El Tayeb Market…
"To me, Kamal is one of the great culinary minds of our time. I've been lucky enough to experience many of his projects, and to finally have a book that shows just a fraction of what Kamal is about is such a joy." - Rene Redzepi, chef and co-owner of Noma
"Nothing symbolizes the city's gastro-political awakening like the market. Founded in 2004 (Souk El Tayeb) reconciles Lebanon's warring factions through their common love of their food." - The New York Times