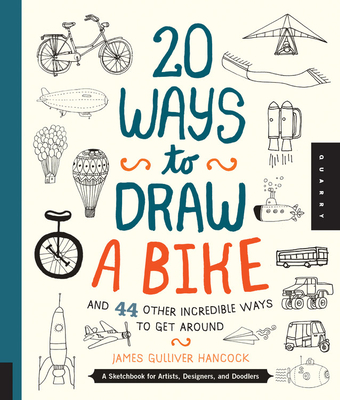 20 Ways to Draw a Bike and 44 Other Incredible Ways to Get Around (Paperback)
A Sketchbook for Artists, Designers, and Doodlers
Quarry Books, 9781631590443, 96pp.
Publication Date: April 15, 2015
* Individual store prices may vary.
Description
This inspiring sketchbook, part of the 20 Ways series from Quarry Books, designed to offer artists, designers, and doodlers a fun and sophisticated collection of illustration fun. Each spread features 20 inspiring illustrated examples of 45 themes - cars, trains, scooters, unicycles, surfboards, sailboats and much, much more–over 900 drawings, with blank space for you to draw your take on 20 Ways to Draw a Bike and 44 Other Incredible Ways to Get Around.
This is not a step-by-step technique book--rather, the stylized submarines, helicopters, and rockets can are simplified, modernized, and reduced to the most basic elements, showing you how simple abstract shapes and forms meld to create the building blocks of any item that you want to draw. Each of the 20 interpretations provides a different, interesting approach to drawing a single item, providing loads of inspiration for your own drawing. Presented in the author's uniquely creative style, this engaging and motivational practice book provides a new take on the world of sketching, doodling, and designing.
Get out your favorite drawing tool, and remember, there are not just 20 Ways to Draw a Bike and 44 Other Incredible Ways to Get Around!
Includes:
jets
bikes
ambulance
blimps
airplanes
bulldozers
buses
canoes
firetrucks
garbage trucks
hang gliders
helicopters
carriages
hot air ballons
airboats
jet packs
jet skis
limousines
magic carpets
motorcycles
motorboats
oceanliners
4 wheelers
racecars
rockets
rollerskates
sailboats
mopeds
shoes
skateboards
skis
strollers
submarines
taxis
dump trucks
tractors
trains
unicycles
antique cars
and much, much more!
About the Author
James Gulliver Hancock feels sick when he's not drawing. He panics that he may not be able to draw everything in the world… at least once. His obsession with re-imaging his world has seen him work for major print, TV and music publishing releases including: Coca-Cola, Ford Motors, Herman Miller, Businessweek Magazine, The New York Times and Simon&Schuster. He has participated in projects in the USA the UK, Indonesia, Austria, Germany, France and Australia, taking his whimsical perception around the world.
He grew up in Sydney, Australia, and studied Visual Communications at the University of Technology, Sydney. In kindergarten he remembers devising the most complex image he could think of … refusing to move on to the next activity after painting, instead detailing a complex drawing of a city of houses including every detail, every person, and every spider web between every house. He still has the drawing.
In high school, he discovered technical drawing. He has always been obsessed with machines and the way things work and rendering the meeting of tiny screws in perfect perspective was a delight. This is now married with a love of colour, paint, and controlled mess as well as connecting it to deeper conceptual and philosophical meaning.
He has traveled extensively including an overland journey from Sydney to London via S.E. Asia, China, Japan, Russia and Europe. Rolling in a typhoon in the sea between Japan and Russia he wondered how he'd save his sketchbook when the ship sank. He undertook artist residencies all over Europe and most recently has been living in New York where he has worked for a wide variety of high profile clients and taken the city by storm with his personal project www.allthebuildingsinnewyork.com
Currently he works out of two studios: one in The Pencil Factory in Brooklyn, New York, and from his homeland studio by the beach in Sydney, Australia.