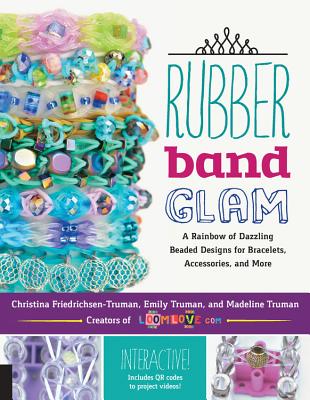 Rubber Band Glam (Paperback)
A Rainbow of Dazzling Beaded Designs for Bracelets, Accessories, and More - Interactive! Includes QR codes to project videos!
Quarry Books, 9781631590603, 144pp.
Publication Date: August 15, 2015
* Individual store prices may vary.
Description
A Beautiful New Twist on Rubber Band Looming!
The bright colors and fun patterns of rubber band looming make for an easy and fun jewelry craft that everyone loves. Add sparkling glass beads, crystals, and other embellishments, and you have a recipe for some seriously glamorous jewelry and accessories!
Rubber Band Glam features stunning designs by the three creators of the popular rubber band looming website and YouTube channel LoomLove.com, mom Christina Friedrichsen-Truman and her daughters Emily and Madeline Truman. Included are:
- A complete overview of tools, supplies, and essential techniques
- 30 beautiful projects with detailed step-by-step photos and illustrations
- Designs for bracelets, pendants, earrings, and other accessories
- QR codes that link to video tutorials on LoomLove.com's YouTube channel
- Tips for parents and teachers on working with kids in groups and on fundraising and community service projects.
Rubber Band Glam is perfect for anyone who's new to looming, and the dazzling designs will inspire avid loomers looking for a new way to use their looms.Enjoy hours of crafting with this engaging book full of fun, stylish projects that everyone will love!
About the Author
Mom Christina Friedrichsen-Truman and her elementary aged daughters Emily Truman and Madeline Truman are the creators of LoomLove.com, a website devoted to Rainbow Loom tutorials and patterns that are "video-tested" through their LoomLove.com YouTube channel posts. The Truman family began working with the Rainbow Loom in September 2013, when Maddie received one for her birthday, and within a couple of weeks she and sister Emily were inventing their own impressive designs. Inspired to share the girls' creations with other loomers, Christina launched the site in October 2013. LA former newspaper editor and freelance journalist, Christina is also the founder/owner of IntimateWeddings.com, and the author of Intimate Weddings: Planning a Small Wedding That Fits Your Budget and Style (North Light, 2004).
Praise For Rubber Band Glam: A Rainbow of Dazzling Beaded Designs for Bracelets, Accessories, and More - Interactive! Includes QR codes to project videos!…
"The rubber band trend shows no signs of slowing down, so it's a good thing there are books like Rubber Band Glam to provide new approaches to the basics of rubber band bracelets and accessories, including a change purse and backpack charms. The projects in this book are intricate and beautiful, elevating the elementary rubber band bracelet into a much more sophisticated creation." - Parent Society