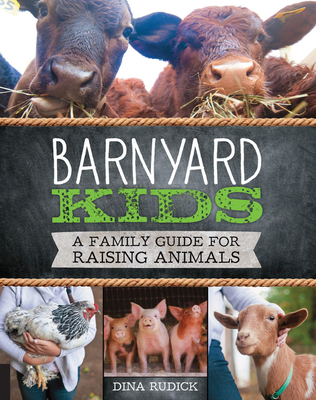 Barnyard Kids (Paperback)
A Family Guide for Raising Animals
Quarry Books, 9781631590719, 160pp.
Publication Date: August 15, 2015
* Individual store prices may vary.
Description
Would you like to start your child on a journey of self-reliance and love of the outdoors?
A sustainable source of ideas to help your children learn the ins and outs of animal husbandry, Barnyard Kids encourages children to get outside, enjoy nature, and reap the benefits of their hard work.
This fun and creative book by Dina Rudick will guide your family through fun opportunities learning about keeping chickens, milking cows, and rearing sheeps.
It's time to get your little farmhands dirty. Help them grow to be fruitful, self-sufficient, happy, and healthy!
About the Author
Dina Rudick is a journalist, photographer, and researcher who grew up in Canton, Ohio immersed in a world of animals and nature. She studied science and natural systems with zeal and dreamed of becoming a veterinarian. But once in college, Dina fell in love with photojournalism and was whisked off to far reaches of the world during her decade-plus career with the Boston Globe. In recent years, Dina has turned her camera and her journalism skills to writing about farming and documenting how she and her husband have started an organic farm and returned to her rural roots. They live and farm in Massachusetts with their son, Wendell.
Praise For Barnyard Kids: A Family Guide for Raising Animals…
"For centuries we've counted on children to take real responsibilities for the animals that provided us with food and companionship. In the process, kids not only grew food, but they also grew their own sense of themselves as capable beings. Barnyard Kids gives kids the tools to dream about and plan for raising farm animals, empowering anyone who reads it to imagine a life with farm animals and then to act to make it real; it will have a special place on the bookshelf in the barn at The Farm School." - Ben Holmes, founder, The Farm School