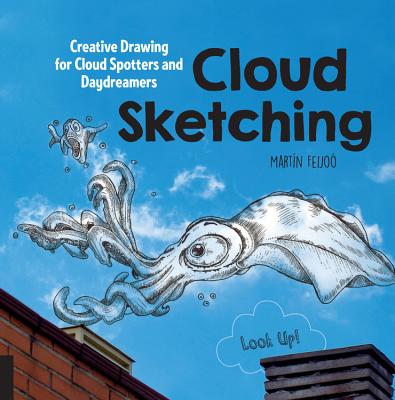 Cloud Sketching (Paperback)
Creative Drawing for Cloud Spotters and Daydreamers - Look Up!
Quarry Books, 9781631590955, 152pp.
Publication Date: March 1, 2016
* Individual store prices may vary.
Description
"When I was a child, I was told that clouds' shapes were created by expert balloon twister clowns who live in the sky, so that they can keep entertaining children." - Martin Feijoo
Look up at the clouds. What do you see? What do you sketch?
As a child, you'd spend hours looking at the sky on a summer day, watching clouds pass, and identifying shapes, animals, scenes, and more. "That one looks like a dinosaur!" is just one of the ways that these muses in the sky can be perceived. With Cloud Sketching by Martin Fiejoo, it's time to take what you see and use it to create wonderful, whimsical art right on the photographs.
In Cloud Sketching, you'll discover Fiejoo's general technique for drawing imaginative creations over photographs of clouds. Then, enjoy a selection of completed cloud sketches from the author's wildly popular art series Shaping Clouds. Take on the task of finishing the included partial cloud sketches. Explore the freedom of a host of "blank" clouds for doodling your own designs. Finally, you'll find blank journal pages where you can add in images of clouds from your own life on which to sketch.
About the Author
Martin Diego Feijoo Gomez (1981-2015) was an Argentinian Creative who started showing his creativity from an early age in literature and drawing classes. His passion for comics and tattoos marked his early works until science fiction sparked his love for books, turning him into a tireless seeker of good stories. When he was a teenager he became part of a local graffiti circle, until fate lead him to the world of advertising.
While his work has been recognized by some of the world's most prestigious advertising festivals, Martin Feijoo has continued developing personal projects giving free rein to his imagination. His writing appears in the book "Stories that sell nothing: what advertising creatives write when they're not thinking on brands" along side other prestigious Argentinian professionals. He also published "Twittales", a collection of short tales that can be shared on Twitter. "Shaping Clouds" was his last project, born in Mexico, it came to life in Madrid and now has turned into this book, for the whole world.
or
Not Currently Available for Direct Purchase