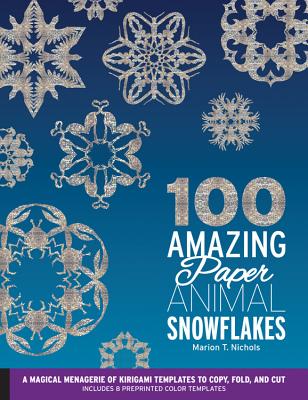 100 Amazing Paper Animal Snowflakes (Paperback)
A Magical Menagerie of Kirigami Templates to Copy, Fold, and Cut--Includes 8 Preprinted Color Templates
Quarry Books, 9781631590986, 128pp.
Publication Date: October 15, 2015
* Individual store prices may vary.
Description
Create endless animal themed snowflakes with the unique and imaginative templates that crafters and artists will love!
Let it snow... animals! In 100 Amazing Paper Animal Snowflakes, artist and teacher Marion Nichols proves that this popular form of papercutting can yield far more than just pretty geometric designs. Crafters young and old can create her astonishing animal-themed designs by photocopying the full-sized templates, then folding and cutting along preprinted guidelines. The templates range in complexity from easy to challenging, so papercrafters of all ages and at all skill levels can snip these fantastic flakes. Eight of the designs are also printed on colored paper, all ready to fold and cut.
About the Author
A former preschool art teacher, Marion T. Nichols is renowned for her ability to transform ordinary sheets of paper into unique snowflake patterns. For more than 15 years, Nichols has taught classes and sold her self-published books of snowflake designs at the City Museum in St. Louis, where she also manages The Snowflake Room. She has also shared her techniques with various groups in the St. Louis area, as well as at the 2013 Applied Brilliance conference.
Praise For 100 Amazing Paper Animal Snowflakes: A Magical Menagerie of Kirigami Templates to Copy, Fold, and Cut--Includes 8 Preprinted Color Templates…
"In a word, ingenious! This is a great book for anyone, but it was particularly appealing to me as a craft project for a holiday party! Since I always do a craft with my grandchildren, I consider this book a great investment!"- Mari Conners, Editor, About Families
"These snowflakes are based on complex, realistic, animals, sophisticated design from a skillful artist with a unique approach to paper crafting. What a great gift this would be for your own kids, a teacher or anyone else who works with groups of children or seniors." - Judi Kauffman, Scrapbooking.com
"These are not your ordinary paper snowflakes. Marion has taken snowflakes to the next level with complex patterns and designs that are truly awe-inspiring works of art. It takes a gifted person to create these snowflakes, and an especially talented and patient person to teach others how to create their own special snowflakes." - Rick Erwin, the director of the City Museum, St. Louis
or
Not Currently Available for Direct Purchase