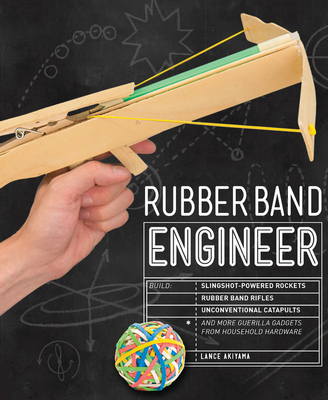 Rubber Band Engineer: Build Slingshot Powered Rockets, Rubber Band Rifles, Unconventional Catapults, and More Guerrilla Gadgets from Househo (Paperback)
Build Slingshot Powered Rockets, Rubber Band Rifles, Unconventional Catapults, and More Guerrilla Gadgets from Househo
Rockport Publishers, 9781631591044, 144pp.
Publication Date: May 15, 2016
Description
"Whoa, that shot a lot farther than I thought it would "
Shooting far, flying high, and delivering way more exciting results than expected are the goals of the gadgets in this book.
Discover unexpected ways to turn common materials into crafty contraptions that range from surprisingly simple to curiously complex. In vivid color photos, you'll be guided to create slingshot rockets, unique catapults, and even hydraulic-powered machines. Whether you build one or all 19 of these designs, you'll feel like an ingenious engineer when you're through.
Best of all, you don't need to be an experienced tinkerer to make any of the projects within. All you need are household tools and materials, such as paper clips, pencils, paint stirrers, and ice pop sticks.
Oh, and rubber bands. Lots of rubber bands.
So grab your glue gun, pull out your pliers, track down your tape, and get started on the challenging, fun, and rewarding journey toward becoming a rubber band engineer.
About the Author
Lance Akiyama combines tinkering and education into a single aspiration: to create a better world by inspiring the next generation of innovators with exciting hands-on projects. He has created project-based learning tutorials on Instructables.com, started an after-school engineering service, and is currently employed as a STEM-based curriculum developer for Galileo Learning. Lance spends his free time designing elaborate plans for advanced contraptions, keeping journals in cryptic backwards writing, and attempting to fly by strapping paper wings to his arms and leaping from rooftops. He lives in the San Francisco Bay area. Lance Akiyama is the author of Rubber Band Engineer (2016), Duct Tape Engineer (2017), and the 2018 book DIY Ballistics Engineer--all from Rockport Publishers.
Advertisement