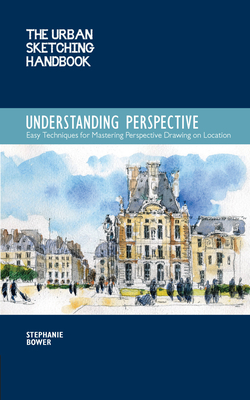 The Urban Sketching Handbook (Paperback)
Understanding Perspective: Easy Techniques for Mastering Perspective Drawing on Location (Urban Sketching Handbooks)
Quarry Books, 9781631591280, 112pp.
Publication Date: June 15, 2016
* Individual store prices may vary.
Description
A good sketch starts with good bones.
The fourth book in the Urban Sketching Handbook series uses drawings and simple steps to explain the often challenging and overwhelming concepts of perspective in practical and useful ways for on-site sketching. Most books are either too abstract or don't provide enough information that relates to what you actually do when you're out in the busy, wide world about to start a drawing. Where do you start? How do you edit what you see to flatten and shrink it onto your paper? How does perspective work?
The Urban Sketching Handbook: Understanding Perspective helps you learn to think like an architect, to draw buildings and spaces by reducing what you see to simple, basic shapes, then adding layers in simple steps, and finally finishing your sketch with detail, tone, and color--in accurate perspective. Full of helpful tips, architect and illustrator, Stephanie Bower even de-constructs sketches to show you how to create them! Once you understand perspective, it will change the way you see the world--you'll see perspective everywhere.
Some of the key concepts explored in this volume are:
- Basic Terms
- Basic Spatial Principles
- Types of Perspective
- Building a Sketch in Layers
- Special Conditions
About the Author
Stephanie Bower worked as a licensed Architect in New York City before gravitating to professional architectural illustration and concept design. She taught the how-to's of architectural sketching for over twenty-five years in New York City at Parsons, in Seattle at the University of Washington and Cornish College of the Arts, and most recently, in popular sketching workshops called "Good Bones" where she teaches the concepts of basic perspective sketching and watercolor. Bower was an instructor at the 2014 Urban Sketchers Symposium in Paraty, Brazil, and also teaches an annual workshop in Civita di Bagnoregio Italy. People around the world follow her sketches online via Flickr, her blog "Drawing Perspectives", and as blog correspondent for Urban Sketchers. She is also a signature member of the Northwest Watercolor Society. She is the author of The Urban Sketching Handbook: Understanding Perspective, (Quarry Books, 2016).