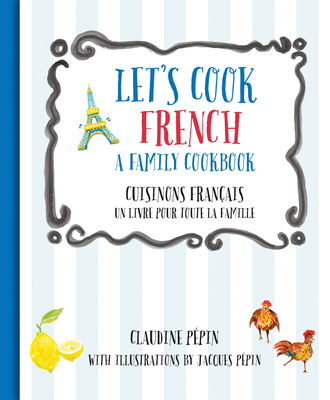 Let's Cook French, A Family Cookbook (Hardcover)
Cuisinons Francais, Un livre pour toute la famille
Quarry Books, 9781631591471, 96pp.
Publication Date: December 15, 2015
* Individual store prices may vary.
Description
2016 IACP Award Finalist!

According to Jacques Pepin, "the moment for a child to be in the kitchen is from the moment they are born." Previously published under the title Kids Cook French, Let's Cook French, written by his daughter Claudine Pepin, is a fun, interactive, bilingual family cookbook that introduces the art and joy of French cooking—featuring 30 classic recipes, along with notes on French culture and suggested menus for your next family soirée.

With an emphasis on fresh ingredients and hands-on preparation, Let's Cook French offers a total immersion in French culinary culture. Each left-hand page in English is mirrored in French on the right and food terms are called out bilingually throughout, creating the perfect format for language learning. Featured are authentic French recipes that are easy for young chefs to follow, including starters, main courses, sides, and desserts. Sweet illustrations by Claudine's father, legendary chef Jacques Pépin, and daughter Shorey, add charm to the pages throughout.

Prepare with your family:
Vichyssoise
Boeuf Bourguignon
Salade Niçoise
Spinach in Bechamel
Crème brûlée
Crêpes
With this interactive cookbook and cultural guide, your child's imagination and creativity will be sparked, as will your deeper connection with them.

Also available in this series: Let's Cook Spanish and Let's Cook Italian.


Selon Jacques Pepin, « la place d'un enfant dans la cuisine doit se faire dès sa naissance ». Écrit par sa fille Claudine Pepin et précédemment publié sous le titre Les enfants cuisinent à la française, Cuisinons français est un livre de recettes familiales amusant, interactif et bilingue et une introduction à l'art et au bonheur de la cuisine française  – il comprend 30 recettes classiques, des anecdotes sur la culture française et des suggestions de menus pour vos prochaines soirées en famille.

Avec un accent mis sur les ingrédients frais et des préparations pratiques, Cuisinons français offre une immersion complète dans la culture culinaire française. Chaque page de gauche rédigée en anglais est traduite en français sur celle de droite, les termes culinaires sont mentionnés dans les deux langues tout au long du livre, ce qui crée le format parfait pour un apprentissage bilingue.
Sont mises à l'honneur des recettes françaises authentiques faciles à suivre pour les jeunes chefs, contenant des entrées, des plats, des accompagnements et des desserts. De savoureuses illustrations réalisées par le père de Claudine, le légendaire chef Jacques Pepin, et Shorey, sa fille, ajoutent du charme au fil des pages.

Préparez en famille :
Une Vichyssoise
Un bœuf bourguignon
Une salade niçoise
Des épinards à la béchamel
De la crème brûlée
Des crêpes
Ce livre de recettes et guide culturel ludique éveillera l'imagination et la créativité de vos enfants et vous rapprochera encore plus d'eux.
 
Également disponible dans cette série : Cuisinons espagnol et Cuisinons italien.
About the Author
Many of you have watched Claudine Pépin in partnership with her father, world-renown chef, Jacques Pépin, preparing delicious meals and sharing cooking techniques on Public Television. All three of their series have received the notable James Beard Award. In addition, Claudine has had numerous television appearances including "Cooking Live with Sara Moulton,""Good Morning America," and "Multo-Mario." Claudine and Jacques Pepin appear together for a final cooking series "Jacques Pépin: Heart & Soul."
With an undergraduate degree in Political Science and Philosophy, and graduate work in International Relations from Boston University, Claudine spent a great deal of time in the wine industry. She spent two years as the 'Brand Ambassador' for Moet & Chandon and Dom Perignon Champagne in New York while also teaching food and wine pairing for both the French Culinary Institute and the Sommelier Society in New York.
In 2002, Claudine was named "Woman of the Year" by the Academie Culinaire de France - Filiale des Etas Unis. She continues to do television as well as events including The Metropolitan Cooking & Entertaining Show, and the Aspen, Newport, Kohler and Pebble Beach Food & Wine Magazine weekends and is a guest instructor and host for Food University which tours nationally. Claudine, her husband Rollie, a Faculty Member at Johnson and Wales University in Providence, along with their daughter Shorey, and two mischievous cats, have relocated from Colorado to Rhode Island.
Her philosophy for food is closely tied to family. Claudine cooks at home almost every day, believing that sharing a meal with family and friends, eating, laughing and spending time together at the table is one of the most enjoyable and rewarding things in life. "Food doesn't have to be complicated. It needs to be wholesome, nutritious and preferably well seasoned. And, it's always best when shared with those you love."
Jacques Pepin is world renowned as the host of twelve acclaimed cooking programs, as a prolific author, respected instructor, and a gifted artist. He is the author of many bestselling books including Essential Pepin, Jacques Pepin Fast Food My Way, and his newest book,Heart & Soul in the Kitchen. He has won multiple James Beard Awards and several IACP Cookbook Awards.
Praise For Let's Cook French, A Family Cookbook: Cuisinons Francais, Un livre pour toute la famille…
"Kids Cook French is a magical introduction to some of the most delicious French classics. With Claudine's recipes, her father's and her daughter's illustrations, this is a book by a family for your family." 
- Dana Cowin, Editor in Chief, FOOD & WINE
"I cannot think of anyone more qualified to write a French cookbook for children than Claudine Pepin! A trusted television personality, accomplished cook, seasoned teacher, and dedicated mom, Claudine has spent her entire life learning from and cooking alongside the most renowned chefs in the world. Complete with countless personal stories, beautiful illustrations by her father and her daughter, and timeless recipes developed with her husband, Kids Cook French is an absolute delight for the whole family and a source of inspiration for aspiring chefs of all ages. Bravo!"
- Gail Simmons, TV host and author of "Talking With My Mouth Full"
"Claudine Pepin came to cooking naturally; her father is the chef and teacher Jacques Pepin. In this concise, elegant cookbook for children—written in English and French, and illustrated by Mr. Pepin—she does not cook down to youngsters. The recipes are simple but serious and go well beyond kid food."
- The New York Times
"If there's one thing I've learned from the French, it's that good cooking is not an end in itself. Rather, it's the crucial thing that brings the family together for a meal at the end of every day—and nothing's more important than that. Claudine Pepin, Jacques's daughter, was schooled in this lesson from birth. Now she is paying it forward. Simply but clearly written, and vivid with illustrations that recall the "Madeleine" books, "Kids Cook French" is seductive. If anyone can tempt kids away from nuggets and pizza, into the kitchen, and on to the dinner table, it's Claudine." 
- Sara Moulton of Sara's Weeknight Meals
"My dear friends, Claudine and her father Jacques Pépin, have taught America to love French cooking. Now, with this very special book, these two amazing storytellers have shared their passion for family, fun and good food with a new generation of cooks. Claudine's recipes open a window into the flavors of France, and Jacques' astonishing drawings will inspire children to be hungry for more!"
- Jose Andres, internationally acclaimed chef, author, educator, and owner of ThinkFoodGroup