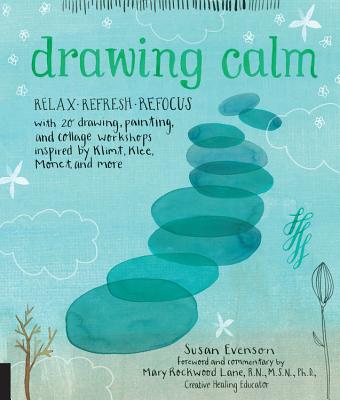 Drawing Calm (Paperback)
Relax, refresh, refocus with 20 drawing, painting, and collage workshops inspired by Klimt, Klee, Monet, and more
Quarry Books, 9781631591488, 144pp.
Publication Date: April 1, 2017
* Individual store prices may vary.
Description
Drawing Calm teaches artists and non-artists how to find an oasis of calm every day by using the work of master painters to inspire creativity.

Maybe it's the colors, or the eye-widening vistas, or maybe it's just the idea that harmony can exist on a square of canvas, but there is something in art that lets it calm and inspire at the same time.
In Drawing Calm, artist Susan Evenson, shows readers how to do the same. It's a book for everyone—non-artists as well as those with plenty of experience in a studio. Using restful, but dynamic works of art as a starting point, Susan Evenson teaches how to capture the light and peace of the master painting.
Making use of "soft" techniques such as torn-paper collage, blended pastels, and wet-on-wet watercolor, this workshop encourages stress-free creativity. Put on the music that makes you happy and choose the colors that take you there too!
About the Author
Susan Evenson received her BFA in painting and drawing from The School of the Art Institute of Chicago, where she first developed her studio art practice. Since then, she has been exploring different drawing media, while learning about a variety of healing modalities including yoga, meditation, Traditional Chinese Medicine and various forms of bodywork. Susan has been focused on freelance illustration work for books and magazines, and is venturing into pattern design for fabrics and papers. She works from her home studio in Cedarburg, Wisconsin, where she lives with her husband, daughter and step-son.
Praise For Drawing Calm: Relax, refresh, refocus with 20 drawing, painting, and collage workshops inspired by Klimt, Klee, Monet, and more…
Even if you're not a great artist, you will enjoy Drawing Calm. Go ahead and be creative—it's fun.
- Healthy Woman