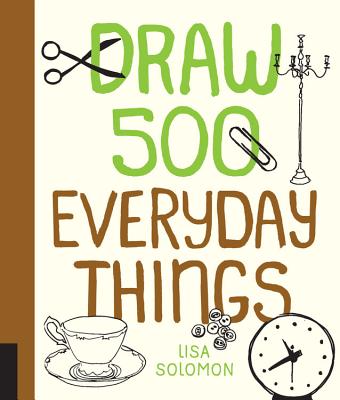 Draw 500 Everyday Things (Paperback)
A Sketchbook for Artists, Designers, and Doodlers
Quarry Books, 9781631592553, 208pp.
Publication Date: September 1, 2016
* Individual store prices may vary.
Description
A pocket-sized sketchbook filled with 500 inspirational illustrations featuring a variety of doodles.
The best way to learn to draw is to DRAW! And this little book is going to help you do just that. Filled with 500 inspiring drawings of everyday things, this cute chunky volume features plenty of room for sketching your own versions of items you use all the time.
From chairs, spoons, lamps and fans, Draw 500 Everyday Things is perfect for illustrators, cartoonists, doodlers, and anyone who loves to sketch. This is not a step-by-step technique book--rather, the doodles in this volume are simplified, modernized and reduced to the most basic elements, offering simple approachable illustrations to inspire you.
This all-in-one pocket-sized sketchbook lets you draw right on the pages making it easy to keep all of your creations at hand. Get out your favorite drawing tools and see what you can create!
About the Author
Lisa Solomon is a studio artist that moonlights as a college professor and graphic designer. Profoundly interested in the idea of hybridization (sparked from her Happa heritage), Solomon's mixed-media works and installations revolve thematically around domesticity, craft, and triggers that may be construed as masculine and/or feminine. She is drawn to found objects tending to alter them conceptually so their meanings and original uses or intents are repurposed. She often fuses "wrong" things together--recontextualizing their original purposes, and incorporating materials that question the line between ART and CRAFT. She received her BA in art in 1995 from UC Berkeley and her MFA from Mills College in 2003. She has exhibited and works with galleries both nationally and internationally, is in numerous private and public collections, and is continually tweeking artworks in her backyard studio. She resides in Oakland, California with her husband, daughter, a three-legged cat, a cross-eyed cat, a deaf French bulldog, a pit-bull, and many, many spools of thread. She is the author of Knot Thread Stitch (Quarry Books, 2012). www.lisasolomon.com